Maintaining Work-Life Balance
Is there a real estate professional alive who doesn't know the feeling of juggling showings, clients, and meeting with other agents with getting to a child's soccer game or even having a date night with a spouse?
There may be no other profession in which achieving a balance between our professional life and our personal life is so difficult and also so crucial to being effective. But tools that are designed to help us become more efficient – smartphones, Fitbits – can actually make it more difficult to switch off business mode.
These are fast-paced times in which we live, but with some intentional effort, we can all create a better balance in our lives.
We can't do everything, so be clear about your priorities. You might find it helpful to write down the focuses of your life – work, family, hobbies, health – and break down what percentage of time you spend on each, and what percentage you'd like to spend.
Set a schedule and stick to it. Seems easy, right? In fact, many of us have become slaves to our technology, jumping to answer every text, every email – particularly if it might lead to a transaction. It's important, however, to let clients know what your business hours are, be they a standard 8 a.m. – 6 p.m. or not. Letting them know your schedule on the front end of your relationship means they are more likely to respect it.
Be purposeful with your technology. Technology addiction can be harmful to work focus and to personal relationships. Carve out time each workday, be it 30 minutes or an hour, to set technology aside and focus on accomplishing the most detailed tasks on your to-do list. Try leaving your computers and phones in another room when spending dedicated time with family and friends. Don't check e-mail just before bed as your brain needs to wind down to ensure a solid night's sleep. To assist with this, try switching on an auto-responder after business hours.
Use a team approach. Most of us are in the same boat, so consider partnering with another agent or two to build an informal support team. Assist each other with showings, for instance. You can split the workload and by casting a wider net, probably earn more business.
Commit to time off. Schedule a vacation, be it a day or a week. Recharging your mental and emotional batteries are as important to success as any other business strategy.
Finally, don't let the perfect be the enemy of the good. Rarely will we find a perfect 50-50 work-life split, but maintaining the systems you set for yourself is key to your productivity and sanity. Carve out time each day for both work and your family, and continue to do the best you can.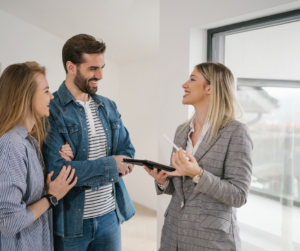 INTRODUCTION This blog post was created for one of the…
Read More