Technology is great, isn't it? Smartphones, apps, and social media have all given us so many new ways to connect with potential customers and market ourselves.
But, ask anyone who gets trapped in automated customer service purgatory or caught on the phone with an anonymous call center staffer and they will tell you it's hard to beat personal customer service.
Many of us have become so caught up in 'the latest and greatest' marketing tools, we've strayed from time-tested methods for creating personal connections through marketing. Let's review some old-school ways for you to connect with customers, while still using newer technology.
Trade shows and conferences. Before you turn up your nose, think about it: you can market yourself at any number of types of shows, from home and garden shows to bridal fairs (first-time homeowners, anyone?) These give you a golden opportunity to meet potential clients you might not otherwise be able to access. You can also pick up fresh content ideas from experts that you can deploy through your own channels. Hosting a booth at some conferences can be pricey, but if you get five new clients, for instance, for a few thousand dollars of investment, that's a pretty strong ROI.
Event sponsorships. Look for opportunities to participate in your community through sponsorship of local events, be they 5K races or 'Best Of"-type events hosted by community newspapers. These tend to be cost-effective and position you as a trusted expert in the area. Share content from events through up to date technology such as Twitter's Periscope function or Facebook Live.
Pick up the phone. Why call when you can send a personalized email? Because it's a lot easier to ignore an email than a live human on the other end of the phone. A 2015 marketing study showed phone calls are making a resurgence because personal calls have an average 30-50 percent conversion rate.
Finally, remember the appeal of emotions. An emotionally connected customer will be a more satisfied customer. Any time you discuss your business – why you entered the field, why you became a broker – be sure to tell a story that connects with your listener. Talk about what your passions are, what you stand for, and why it matters to your audience.
The most successful marketing campaigns are those that start by creating a personal connection and uses technology to complement it.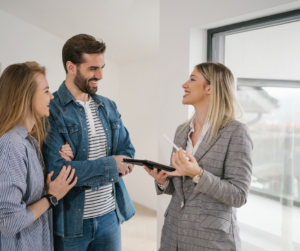 INTRODUCTION This blog post was created for one of the…
Read More