Leadership: Becoming The Consummate Sales Pro
In today's post, we take a different look at leadership.
Say you've been in real estate for years. You've come up through the ranks as an affiliate agent, then an agent, and now you are ready to branch out an open your own agency.
"At last!"  you say to yourself. "No more sales for me! I can sit behind the desk and manage while my brokers do the selling." For many business people on the rise, this is the definition of leadership.
We've got news for you. No matter how far up the ladder you climb, you will always be selling. As the leader of your own business, you may take a break from direct sales of properties, but managing other agents means you still must sell others on ideas and strategies that will your business successful.
In fact, the bestselling business writer Daniel Pink estimates leaders across professions spend about 24 minutes of every hour influencing or selling others.
Leadership in Real Estate
Let's look at what leadership means for you:
Selling strategy. You won't be successful with your own business without developing an overarching strategy and convincing your agents to buy into it. Your team needs to understand where you are heading and what a successful outcome looks like.
Be the coach. Think of your sales team as a sports team, and you are the head coach. That means you'll need to work with team members of everything from evaluating their pipeline to creating value. Don't underestimate how challenging it is for many agents to learn to master interactive and soft skills: Getting that portion of sales right isn't achieved through a couple of training sessions. View drills on personal skills like a high-level football coach leads his team through offensive drills.
It's about influence. Just as your sales team will use their influence to help close deals with buyers, you are influencing agents to accomplish what you want or need them to. As leader, you aren't only selling a particular way to accomplish something, you are also responsible for coordinating and facilitating the achievement of that objective. To do so, you must influence each member of your team what they are doing is in their best interest, as well as the team's.
Getting past no. You can order your agents to do something, but we all know it's much better to get voluntary buy-in to your decisions. You might not even require assistance to achieve goals, but you sometimes need to get buy-in to ensure naysayers don't throw up roadblocks.
Finally, remember to hone your in-house sales presentations as carefully as you would practice real estate scripts for prospects. By viewing management and leadership as you do the sales process, you can ensure success for your entire team.
Take a look at this earlier post for other tips on sales success.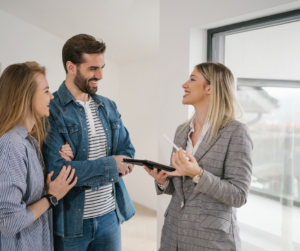 INTRODUCTION This blog post was created for one of the…
Read More