Overcoming Call Reluctance: Part 2
In the first post in this series on call reluctance, we focused on why you get it and how you know you have call reluctance.
Obviously, a major contributor to call reluctance is fear, whether it's fear of rejection or fear of failure. We are hard-wired to be fearful when faced with feelings of dread. And our first response is to run, find a diversion or some justification to procrastinate.
Famed inspirational speaker and author Zig Ziglar had this to say about fear:
"Fear has two meanings: forget everything and run or face everything and rise. The choice is yours."
In this post, we'll walk through a variety of strategies you can use to face your call reluctance and rise to the level of real estate success you deserve.
Reframe your role: If you don't take pride in being known as a real estate agent, then reframe your role, your purpose. The truth is, you are so much more than a sales "agent." Your role is to help guide your clients through one of the most important activities of their lives. They are anxious and often fearful as well. Take solace in knowing you are helping them realize their dreams. You are counselor, a problem-solver and a friend. They will long remember you (and be willing to refer you) for how you treated them, more so than how much they made on the sale of their home.
Get real with your goals: If you do not have clearly-defined business goals for the year, now's the time to start. Perhaps you have two goals: one is your primary, or base goal; what you need, at minimum, to keep your business moving forward. The second is your "stretch goal," or what you really would like to achieve if your business is running on all cylinders. Once you have business goals you can begin to work backwards to determine how many daily calls you need to make in order to get one listing meeting.
Welcome rejection: Yes, this seems counter-intuitive. But many top-performing real estate professionals use rejection as a goal. They gauge the success of their phone prospecting efforts by the number of rejections they get. Indeed, those rejections are proof-positive that they are working the phones to the fullest.
Use your tools: Tools, especially technology, help make us better at our jobs by helping shore up our confidence. To that end:

Take full advantage of what Vulcan 7 brings to your business, from the best Expired and FSBO leads, to a world class CRM and dialer. And here's the thing: Vulcan 7 is intuitive and easy-to-use.
Use your real estate scripts. We recently blogged about the value of scripts in helping to guide your phone prospecting efforts. In particular, your scripts can help with objections, which can be intimidating for many agents.

Find an accountability partner: You can't do this alone! By working with another real estate professional, you can hone your delivery and build the confidence needed to take your business to another level. As we said in the first post in this series, practice is essential to becoming confident at what you are doing.
Embrace affirmations: Google "affirmations" and you'll be introduced to countless lists, all of which can prove beneficial in keeping your mind focused on the right things. In just five minutes every morning, you can look at yourself in the mirror and affirm why you deserve the success you dreamed of when you first entered the real estate profession.
Care for your body, mind and soul: Build a routine, especially in the morning, that addresses your physical, mental and spiritual health. Exercise, meditation, reading-it doesn't matter, because any or all of these activities help to steel you for the day ahead.
It takes dedication, perseverance and, above all, courage to realize success in the real estate business. But the simple fact that you're reading this blog post suggests that you are motivated to succeed, and open to new strategies to building your confidence…and business.
You just have to begin moving in a forward direction. With that, we'll close this post with another quote from Zig Ziglar:
"You don't have to be great to start, but you have to start to be great."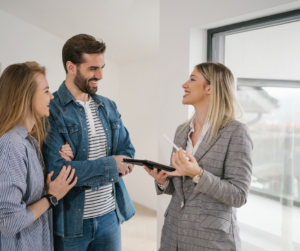 INTRODUCTION This blog post was created for one of the…
Read More