Consistent Lead Generation = Consistent Incoming Business 
How do I make time to prospect when I already feel "busy"?
"It's summer, and I'm so busy with existing business, and pendings, to close!"
Here's a fundamental truth about real estate success: when you keep lead generating, business keeps flowing in.  If you stop lead generating, you will soon find your pipeline completely empty.
Top real estate coaches agree that 80% of a real estate agent's day should be spent in production-based activities every month of the year.
Lead generation
Lead follow up
Pre-qualifying
Role play/practice
Handling objections
ALL of the above are money making activities.
And remember this: the most successful agents keep lead generation efforts in full force during the busiest months. It's not easy, but this is the most opportunistic time of year. It's peak season for transactions — buyers are on the hunt, sellers are more receptive than ever, and most agents have STOPPED CALLING!
Here are tips from top producers on making time to prospect:
High standards, specific goals: Top producers have high standards and always know where they stand relative to their goals. Results are closely tracked daily, weekly, and monthly with a focus on the "why" behind the goals.
Real estate is a contact sport: It is our job to offer our service as many times as possible every day. How are you going to do x number of deals this year and reach your goals without having more conversations with those we know and those we don't know?  It is in our best interest to go out and find business rather than wait for it.
Power of the schedule: Design a structured schedule in support of your goals and stick to it. Everything starts with the commitment to daily lead generation. Honoring your scheduled time for prospecting when your pipeline is full keeps your pipeline full long after your present pending deals have closed.
Win the Morning, Win the Day: Prospecting first thing in the morning allows you to reach new expireds before the competition and also gets the hardest part of your day out of the way first. Time management experts including The 4-Hour Workweek and Tools of Titans author Tim Ferriss insist that those who "win the morning, win the day".
Discipline and commitment are keys to success. Distractions are significant, constant, and must be minimized so you can remain focused on your goals.  With no plan, the distractions can become your schedule.
High accountability is common among top producers. They designate time for daily prospecting and honor that time with the same commitment they honor their listing appointments. Accountability partners also increase the likelihood of continued success.
In this short 2 minute video featuring agent Bernie Gallerani of Remax Nashville, who leads a team that sells 700+ homes annually, he shares his insight:
"If you just manage deals and service business instead of continuing to lead generate, you'll soon have zero income.  You have to take care of your lead gen first. "
"Real estate is an industry with unlimited opportunity if you figure out how to stay focused on lead gen and specific goals. You must stay committed to that time on the phone, even in June and July"
What changes can you make today to spend a higher percentage of your day in production-based activities?
Should you consider delegating to trusted colleagues such as a transaction coordinator, part-time assistant, or buyer's agent?
When you design a schedule in support of your goals and follow it daily, you will keep your pipeline full, and you will also finish each day with a sense of accomplishment.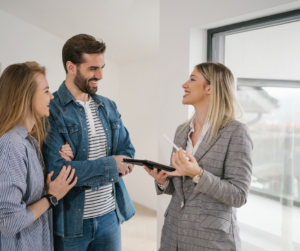 INTRODUCTION This blog post was created for one of the…
Read More