David Beckham, Realtor®
Vulcan7® is the most innovative tool available for agents who prospect daily. As a client, for the past 4 years, I have consistently added an additional $90,000 to $110,000 to my end of year GCI.
Vulcan7 has been instrumental in bringing my real estate business to the next level.
Go from lead to listing in a single platform.
Vulcan7® is everything you need under one roof. Just log in, get new real estate seller leads daily, and reach home sellers with our built-in tools.
Find out why the industry's top agents trust Vulcan7® every day.
Understanding Real Estate Seller Leads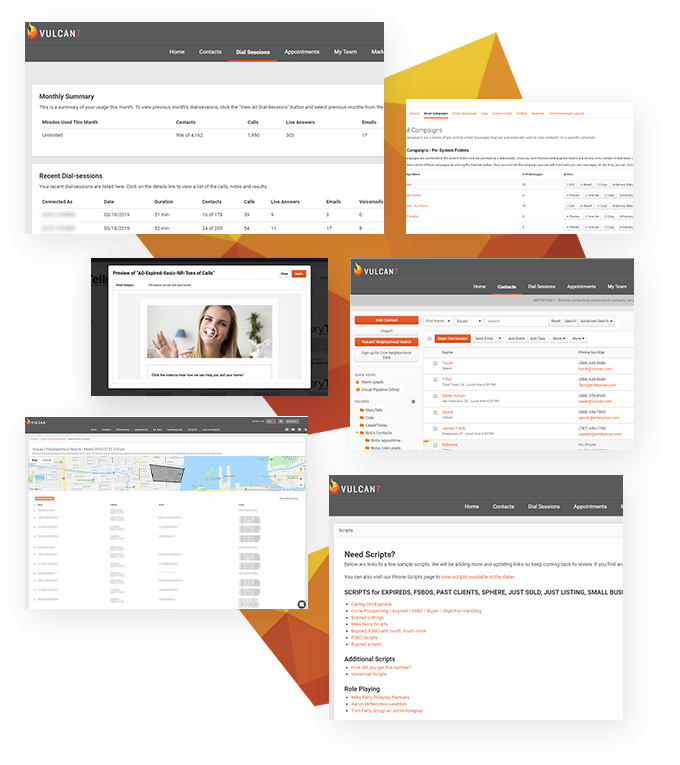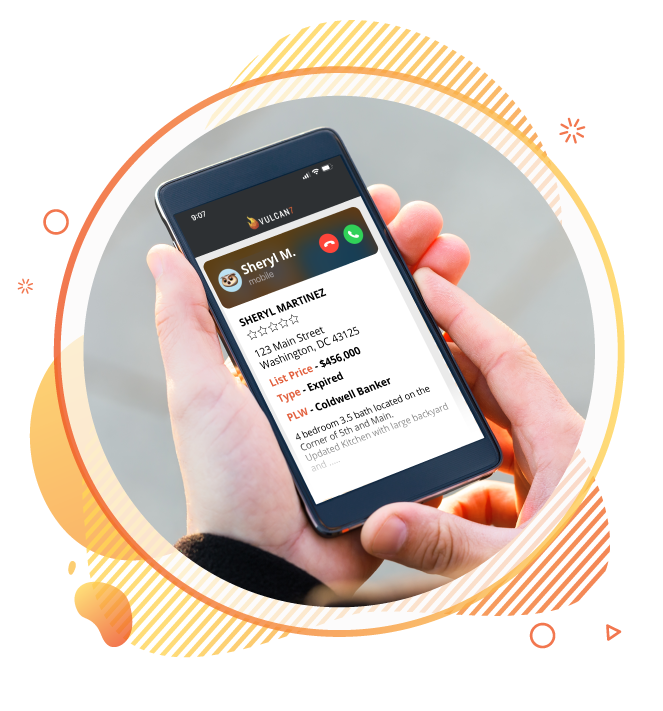 Drive Your Business Through Real Estate Seller Leads
Vulcan7 delivers the best real estate seller leads to your desktop every morning. Plus, we help you tap into the value of these leads with our best-in-class dialer and CRM.
Let's look at the listing lead generation real estate resources Vulcan7 provides the agents at all experience levels.
When it comes to real estate seller leads, most of the top real estate agents in our industry focus on expired listings. That's because nearly 40% of expired listing homeowners relist with a NEW real estate agent within one month. Agents who are able to hone their expired listing prospecting skills can ensure themselves a steady flow of revenue throughout the year.
An often-overlooked category of real estate seller leads is for rent by owner, or FRBO. People with multiple rental properties are likely to buy and sell frequently.
That's why Vulcan7 provides FRBO leads FREE as part of its expired and FSBO package.
Many successful agents include circle prospecting in their business development efforts. Circle prospecting allows them to focus on a specific area of town, or even specific neighborhoods. With Vulcan7's Neighborhood Search tool, agents can receive contacts within a specific radius of a selected area. The surest path to success in our industry is to leverage the power of real estate seller leads. And there's no better source of great real estate seller leads than Vulcan7.
Another powerful category of real estate seller leads is for sale by owner (FSBO). Why? Because 9 out of 10 FSBO's fail to sell, and will typically turn to a real estate professional within four weeks if they can't find a buyer. Generally, FSBO's tend to be more open to talking with an agent. To that end, we suggest that new agents focus on FSBO's as a means of honing their prospecting skills.
Another way to generate revenue is by reaching out to homeowners whose properties are in Pre-Foreclosure. Vulcan7 provides you with industry-standard data including cell numbers, and email addresses for these distressed property owners who have entered the pre-foreclosure process.

We provide customized program implementation with one on one training

REVIEW YOUR LEADS
Most packages are all-inclusive and include multiple lead sources. Pick from Expired Listings, FSBO leads, or both to suit your prospecting needs
SELECT YOUR GEOGRAPHY
Filter your results to the areas you want to pursue during prospecting

1 ON 1 ON-BOARDING
Our customer success team will spend dedicated time with you on your first day