REAL ESTATE EXPIRED LEADS: THE FACTS
When it comes to Expired Listing Leads, always remember:
You can assume they are motivated because they've already made the decision to sell their home.
They are likely not adverse to working with a real estate agent.
They have a property to sell without having an assigned agent.
Here are a few noteworthy statistics to keep in mind about Expired Leads:
1Over half of Expireds re-list and sell with another agent
2Many Expireds are opportunities for immediate, urgent business.
340% list within one month
4Nearly 4 in 10 will list with a new agent within 30 days
560% of Expireds wait before signing with a new agent
6Fewer than 3 in 10 Expireds will re-list with their current agent
735% will have their home off the market for a month or more
BENEFITS OF PROSPECTING EXPIREDS LEADS
Here are two of the many benefits of prospecting Expired Listings Leads:
Typically, a homeowner who did not sell the first time has an increased urgency to sell the second time around. If you stick to your expired listing scripts, that urgency gives you an excellent chance to convert the lead to a listing.
Working with expired listings allows you to make significant GCI over a shorter period, especially when compared to working as a buyer's agent.
WORKING WITH EXPIRED LEADS, REAL ESTATE
As we said above, whether you've been in the business for years or are relatively new, you probably know that Expireds are a significant revenue opportunity.
And, if you're a Vulcan7 client, you are fortunate to have the best Expired Listing Software, leads are delivered to your desktop every morning, not to mention the best CRM and dialer in the business. Vulcan7 also checks property statuses nightly to verify homes have not been re-listed or sold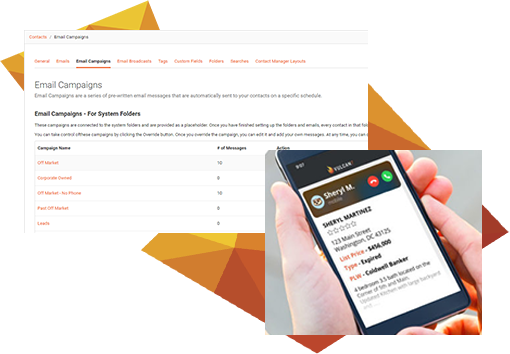 Here are a few of the fundamentals when it comes to working with Expireds:
When it comes to calling real estate expired listings, focus on those critical, initial seconds to position yourself:
Let the homeowner know how you would do things differently ("While your home was on the market, here's how I helped X homeowners sell their property").

Take them back to their original motivation by asking  what motivated them to sell in the first place (i.e., the importance of their next move).
Don't lose touch with the unique opportunity of older expireds. Many agents pass these listings up for newer expireds, but both are opportunistic.  Remember:
Don't consider these cold calls because you know they have a home to sell and do not have a listing agent.
Call early and be persistent in your follow-up with new expireds. Prove that you are dedicated to selling their property; they will appreciate that dedication.
Expireds also appreciate it when you show them you remember their property.
Remember that the thing they are most concerned about are time and price:
Have your stats ready: examples of your quick sales, especially those made above the listing price.
Be persistent about getting an in-person listing presentation-avoid having to make a listing presentation over the phone even via Zoom, if possible.
Show the homeowner how you would be a partner and problem solver. Have examples of how you went above and beyond for other clients.
You may run into situations where the homeowner previously listed with a friend and is possibly inclined to re-list for the same reason. Perhaps you can turn this in your favor: "I appreciate great friendships, but what's really more important to you….working with your friend, or netting the most amount of money for your family? " Be straightforward if the client asks if you're willing to negotiate commission: "It depends on many factors, such as the condition of your home and the price we set. We can discuss that in more detail when we meet tomorrow."."
Firmly and politely fight through the objections until you secure the listing presentation.
Expireds are likely frustrated that they could not sell their home during their previous listing.  When you  help them achieve their goal, they are grateful sellers who refer you to others -- you're the agent who got the job done!
MORE ON THE VALUE OF OLDER EXPIRED LEADS
OK, so we get the value of the new expireds. But what about those older expireds? Some might dismiss older expireds as yesterday's news.
Well, we're here to say: don't be too quick to judge older expired listings as anything less than an opportunity worth pursuing with vigor.
For the record, older Expireds could be homes that came off the MLS a month ago, or a year ago, or even longer. It would be best if you define "old" based on the dynamics in your market. For example, in a large market, with many expired listings, you might want to focus on those listings that came off the MLS one or two months ago. In smaller markets, you might want to expand your pool with older expireds.
Two things make older expireds particularly interesting.
First, calls to older expireds are warmer, friendlier calls to make. And because many agents dismiss older expireds, you are likely to find less competition when trying to build a relationship with these homeowners.
And, related, compared to new expired listings, those older expired homeowners are likely not being inundated with calls. This gives you a unique opportunity to forge a relationship.
If you're a Vulcan7 client, you have access to the best older expired listings and expired listing phone numbers in the business, so you're already at an advantage over other agents.
The next question is: what do you say?
PROSPECTING OLDER EXPIREDS
When calling an older expired listing, you want to learn several things:
Confirm that their home was previously listed and came off the MLS at a certain date. This information tells them you've done your homework.
Once you've gotten to this point in the process, you can use the other tools you have for working with expired listings. Again, understanding how to maximize the value of expired listings leads is critical to success in real estate. Just don't forget: there is gold in those older expireds.
BENEFITS OF VULCAN7 EXPIRED LISTING SOFTWARE
As the industry's leading Expired Listing Service, Vulcan7 offers agents several important benefits:
By harnessing the power of Artificial Intelligence
Vulcan7 has honed its data collection process to ensure that you have the MOST ACCURATE leads delivered to your CRM early every morning.
Our Expired Real Estate Listings Phone Numbers Have Proven Highly Reliable
Allowing you to prospect with CONFIDENCE and reach qualified home sellers quickly.
Our Expired Listing Software
Includes verified email addresses to give you a second, crucial touchpoint in your prospecting program.
The Vulcan7 Platform Makes It Simple To Follow Up With Your Real Estate Expired Leads With An Intuitive, User-Friendly CRM.
And our BEST-IN-CLASS DIALER saves you time – you can make calls with 4 times the efficiency compared to manually dialing.
Real Estate Expired Listings Serve As The Foundation For Many Of The Top-Producing Agents In Our Industry.
 If You'd Like To Learn More About The Best Expired Listing Service In The Business, Contact Vulcan7.