FSBO Strategy: The Basics You Need to Know
We've devoted much of this month's blog content to the value of prospecting For Sale by Owner, FSBOs. We've covered:
Today, we're going to review the basics of FSBO strategy, from both the perspective of an experienced agent, and a relatively new estate agent (at least new to regular prospecting).
CREATING AN EFFECTIVE FSBO STRATEGY
FSBO can be tricky prospects. So much so that you might ask, 'Is prospecting FSBO a good real estate strategy?' The answer, simply put, depends on your approach: the right mix of training, empathy, patience, and provision of value can make FSBO leads highly rewarding.
However, there's a lot that goes into creating a successful FSBO listings strategy. 
Here, we'll break down the essentials of FSBO strategy, focusing on building rapport, nurturing trust, and leading homeowners to realize the benefits of working with a real estate agent.
EXPERIENCED REAL ESTATE AGENTS
Experienced agents know that FSBOs are motivated to sell, yet also understand that it often takes a special, subtle approach when building rapport with FSBO prospects. Here are a few things that experienced agents know about working with FSBOs:
Be persistent with follow-up.

It doesn't take long for many FSBOs to get frustrated by the process of selling their own home, which is why it's important to keep your name top-of-mind with them.

However, an

FSBO follow-up strategy

is about more than just making repeated contact; it's about subtly demonstrating your value.

Take excellent notes

.

An effective

FSBO strategy

involves meticulous note taking.

Good notes during an initial call can yield the kind of relevant questions that keeps the FSBO prospect engaged. If you find out that your FSBO prospect is having an open house, you'll want to call the next day to determine if it was a success, and, if not, how you might help with strategy for the next open house

Validate their decision.

FSBOs are often unsure that they've made the right decision to sell

their

property

on their own. You can build trust by affirming their decision

: "Great idea to sell on your

I think you'll have a lot of success. And if you need any help, let me know."

In other words, FSBOs need to come to their own conclusion that they need an agent to sell quickly, and at the best price.

Guide, don't force, the process.

Effective, open-ended questions can uncover the homeowner's motivation. If the FSBO says

,

"I'm

doing

this to save money,

" you might respond with:

"That makes total sense, but let me ask, what does saving money look like to you?"
NEWER REAL ESTATE AGENTS
Understanding these guidelines about the FSBO basics can elevate the performance of new real estate agents, allowing them to recognize the motivations and uncertainties of homeowners selling their properties. 
If you're new to the industry and/or have started to prospect on a regular basis, you might like to know that FSBOs are, in general, easier to engage than someone sitting on an expired listing. Expireds can be frustrated and angry, especially if they're being inundated with calls from agents who all seem to have the "right strategy" to sell their homes.
FSBOs, on the other hand, are likely to be more relaxed in the belief they will save lots of money by selling on their own. They might be friendlier and open to dialogue because they haven't had enough time to get frustrated at the process.
Here are a few things to keep in mind consider if you're beginning to prospect FSBOs:
Keep the hard sell to a minimum at first:

Persistent

follow-up

is important. But, the homeowner might interpret overly-aggressive selling to mean that they made the

wrong decision

by selling on their own.

Building trust and rapport is essential to an effective FSBO plan. This will

start

by acknowledging the seller's decision and assuring them of your assistance instead of pushing them to an uncomfortable decision.

Check your eagerness.

Newer agents can often

be

over-eager, assuming that it might be easier to get a listing from a FSBO. But that attitude can backfire.

While enthusiasm is a

key

trait in a real estate agent, being overly keen might not

work

in your favor. In fact, it can give

potential

FSBO

clients

you're more interested in their listing than in genuinely helping them navigate the sales process. 

Deliver value:

Use your initial conversations to build rapport and trust. Perhaps reinforce the importance of curb appeal, and suggest landscapers you know who can help them transform their front yard. If you support their efforts in the short-term, they are more likely to remember you when they've "hit the wall" on their own selling efforts.

Be a good listener

. Don't talk too much when you make that first contact. Your instinct might be to do as much "selling" as possible. Instead, ask open-ended questions. Then, listen carefully to uncover the

FSBO's

motivations and fears.
Finally, if you want to improve your opportunities with FSBO prospects, consider the following:
Research reveals that 60% of homeowners don't trust real estate agents.

This

means, from that first call on, you need to focus on building trust and confidence with your FSBO prospect.

90% of FSBOs want to save by not having to pay a real estate

agent's

commission. You can build trust and rapport by simply affirming their decision.

"I have no doubt that you can sell on your own."

  Allow them time to see what it's like to sell on their own. When the time is right, you can ask:

"If I could help you sell your home and make more money, would you be open to that?"

Or:

"If there would be a financial benefit to working with me, wouldn't you at least want to hear what I had to say?" 

Use the pronoun "we" to reinforce the fact that you are partners in selling their home.

"When

we

sell your home, do you have somewhere you want to move?"

Or:

"If you feel comfortable that working with me is in your best financial interest, would you consider hiring me?"

Make sure your tonality sounds empathetic, enthusiastic and positive. Never lecture

a

FSBO. Also, practice how to mirror back what they've said

,

so they know they've been heard.

Think of ways you can provide value even if it doesn't

'

lead to an immediate listing:

Help them understand the paperwork

Suggest real estate-related vendors, such as mortgage brokers

,

home inspectors, etc.

Offer to help them with a seller's disclosure form.

Suggest interesting ways to stage their home for an open house
It takes FSBOs about a month to fully appreciate how difficult and time-consuming it is to sell their own home. With a patient, and value-added approach, you can set yourself up to be the "go-to agent" when the prospect finally says: "I'm ready to pay you a commission!"
Learn more about Vulcan7's, industry-leading FSBO leads HERE.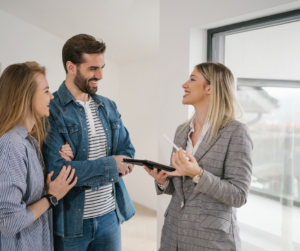 INTRODUCTION This blog post was created for one of the…
Read More