Real Estate CRM And The Power of Video Email
In a recent book on the power of video in today's marketing environment, Dr. James McQuivey, a leading analyst at Forrestor Research estimates that one minute of video delivers the same communication impact as 1.8 million words. Here is how he came to his estimate:
Some might dismiss this such a claim. But with video consumption rising at a rate of 100% per year, it is not difficult to believe that video is transforming the way we consume and understand information, marketing or otherwise. Consider:
More than a third of all online activity is now spent watching video, and with the rapid expansion of video through platforms such as Facebook and Instagram, this number will likely increase in the near future.
36% of online consumers trust video; we suspect much of this trust is dictated by the fact that videos are so often shared, thus providing a tacit endorsement from the sender.
80% of users recall a video ad viewed in the past 30 days
Effective real estate CRM is about building relationships. CRM platforms such as that offered by Vulcan 7 are designed to enhance an agent's effectiveness and efficiency with regard to engaging customer and prospects. Increasingly, video, and in particular, video email is playing an important role in this relationship-building process.
How effective is video email? Let's look at some recent statistics:
Video emails can drive click-through and engagement rates by as much as 300%
According to Cisco, 33% of email recipients open emails based on the subject line, and adding the word "video" to that subject line increases the open rate to as much as 46%
According to the eMail Marketer blog, more than half of all marketers who use video in email campaigns see increases in all key metrics, such as click-through rates, time-spent-reading and shares.
If you're considering using video email to enhance your real estate CRM efforts, here are a few tips to consider:
Brevity is key; keep it short and sweet. You don't need more than 30 seconds to make your point. For example, sending a quick thank-you video email from your car following a listing appointment.
Strive for relevance and avoid overkill. To the previous point, all you need to do is say thanks and reinforce one or two key points. You don't need to re-hash all of the points made in your meeting.
Keep it light and friendly, which doesn't mean silly. And don't be too stiff. Probably the best advice is to strive for authenticity.
Accept imperfection; your video doesn't have to be slick. Again, be authentic
If you haven't explored video email, you're not alone. According to a study by the Litmus Group, less than 10% of respondents report using video email, with plans to use it again. The remaining 90% is divided between those not interested, interested buy unsure of themselves and some who've tried but aren't interested. This is obviously good news for those who might be looking for a competitive edge in the market.
Video email is an excellent way to personalize your real estate CRM program. It gives you a chance to showcase your personality and create a unique brand presence for yourself.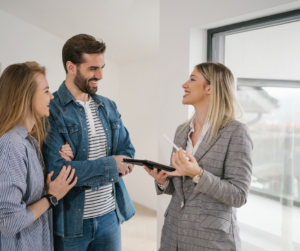 INTRODUCTION This blog post was created for one of the…
Read More