Real Estate Prospecting: 5 Tips For A More Effective Website Experience
For top agents, real estate prospecting often begins in the morning, probably working the phones (of course, using leads secured through Vulcan 7!). But one thing that is often dismissed when it comes to a holistic approach to real estate prospecting is the value of your website.  In fact, it's not unusual to hear agents bemoaning the fact that they get little value out of their current site. That's understandable because so many real estate agent sites look exactly alike.
A well-designed website can play a vital role in improving the quality of leads and how those leads relate to stronger real estate prospecting efforts. Consider these five questions:
1. DO YOU HAVE A POWERFUL HOME IMAGE?
Nearly every agent website opens with a similar image: a house. OK, you sell houses, we get that. But perhaps you can use images that are more inspiring or tell a story to draw people into your world. Perhaps this is a better way to think about what you do: you aren't selling homes, you are making dreams. From that perspective, maybe this type of image would be more engaging than the typical exterior image of a home (who doesn't love kids AND dogs?):
2. WHAT IS YOUR VALUE PROPOSITION?
What makes you different from other agents? NO, it's not that you deliver better service because everybody can say they deliver better service. NO, it's not that you're passionate because everyone is passionate (at least they may think they are). But what do you do differently that would set you apart? Maybe you are employing a 1% commission? Maybe you pay for home inspections and professional photographers? People come to your site wanting to know why they should trust their home with you; help them feel as if they are making the right decision.
3. IS YOUR SITE MOBILE FRIENDLY?
Yes, in today's web development world, it's almost a given that sites are built to work across all platforms. But the question is: does your content work across all platforms? According to Google, nearly 60% of home searches originate on a mobile device, with that number heavily influenced by younger demographic groups. Don't just assume that your desktop design will function the same on a mobile device, most notably the navigation.
4. DO YOU HAVE CALLS TO ACTION?
These next two points are related. What are you doing to stop someone in their tracks when they visit your site? Do you have a call to action or, in fact, multiple CTAs?  Many agents use the "home valuation" box to engage visitors to their site. But again, this is a widely used strategy so it really doesn't differentiate you. So, perhaps you should consider combining your CTA with something of value.
5. DO YOU OFFER SOMETHING OF VALUE?
One of the most effective ways to engage visitors to your site is by offering them something of value, especially if what you are offering is worthy enough to convince the visitor to part ways with an email address. What do we mean by "something of value?" Perhaps you create a series of short, nicely designed white papers or ebooks on topics that would be relevant to a cross-section of visitors, such as:
10 Ideas For Staging Your Home Like A Professional
5 Reasons Why It Makes Sense To Use A Real Estate Agent
10 Tips For Organizing Your Garage
8 Tips For Those Who Are Thinking About Downsizing
You get the idea; people want valuable information and are willing to engage with businesses that can provide such value.
When it comes to using your website to enhance real estate prospecting efforts, remember this adage: "Facts tell and stories sell." Look at your website as a place to tell your story in a compelling way and always with an eye towards providing value to anyone who visits. Happy prospecting.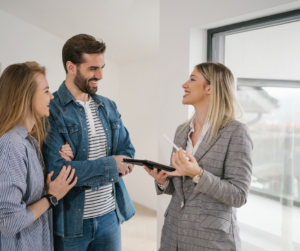 INTRODUCTION This blog post was created for one of the…
Read More