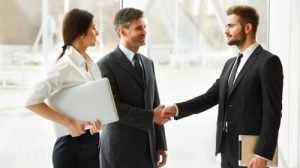 Should You Become A Broker?
So you've had your real estate license for a few years. You've been successful listing properties and closing transactions and the next logical step seems to become a broker.
Or is it? While getting a broker's license comes with obvious rewards – chiefly, a higher paycheck – it's not for everyone. Let's take a look at the pros and cons of taking your real estate business to a higher level.
WHAT IT TAKES: THE BASICS
Becoming a broker means earning a separate license in addition to your affiliate agent license. To sit for the broker licensure exam, you must first have served as an agent for a certain number of years – in many states, the requirement is three years – and have fulfilled additional education requirements.
THE PROS
No one becomes a broker because they think they will make less money than they do as an agent. As agents often say:, "we 'kill what we eat.' But, as a broker, you manage affiliate agents and get a cut of each agent's commission. As such, there is the potential to make a very solid income without as much hustle.
You're the boss! Successful brokers are also typically good managers and self-starters and attract people with entrepreneurial drive. Brokers have responsibility for training and helping other agents, so if you have the ability and desire to teach and guide others, serving as a broker can be an excellent fit.
Smart brokers are always in demand. Access to the internet doesn't guarantee an understanding of real estate to homeowners. Some professions will decline with the advent of new technology by home buying and selling will always be dependent on relationships.
More opportunities: earning your broker's license means you are automatically licensed for property management, for instance.
THE CONS
You're the boss! It's not always easy being in charge. As the old saying goes, with great power comes great responsibility, and as broker/owner, you have the responsibility for ensuring the agents who work with you are trained. You will resolve conflicts, if necessary, keep records, and manage compliance. If administrative work isn't your cup of tea, you may be happier as an agent.
Fewer professions are more fraught with uncertainty than real estate, and there is much you have no control over: market fluctuations, the whims of buyers and sellers, and stiff competition from other agencies, for instance. There's no better example that illustrates this insecurity than the 2007 financial collapse, which caused millions of Americans to lose their homes and flooded the market with inventory.
Becoming a broker isn't for everyone, but it does enable you to enhance your skill set and marketability. Consider all the pros and cons and how a move up could affect your career and lifestyle.
If you're lucky enough to be a Vulcan 7 client,…
Read More