The Marketing Journey: Part 5-Telling Your Story
In today's post, we build upon the message from Post 4 of this series which focused on Communication Strategies.
Now we are into the mean of the marketing journey and that is: defining your brand idea or, more accurately, your brand story.
It might help, however, to revisit the notion of branding, especially as relates to the world of real estate. To that end, let's consider the difference between a commodity and a brand.
Commodities are products or services which can be easily substituted for one another. They're items for which demand exists, but no qualitative differences can be identified in the marketplace.
Think about this in regard to the world of real estate. There are hundreds, if not thousands of agents in your marketplace. How do you differentiate yourself? Yard signs? An occasional billboard? Facebook?  To a large degree, most agents rely on the same "marketing" strategies to get the word out, meaning very few are crafting a unique, separate brand identity for themselves.
Let's now contrast the definition of a commodity with a brand:
Branding is the process of understanding who you want to serve plus how you want these people to feel, then working consistently and passionately to create a consistent emotional connection with that audience over time.
Brand loyal customers are less likely to substitute services based on price/data and are more likely to promote services they like to others. This willingness to spread the good word about a brand has become the gold standard in today's hyper-cluttered and connected world.
Let's spend the rest of this post breaking down the three critical building blocks to creating and sharing your brand story.
1. WHO DO YOU WANT TO SERVE?
It is common for small businesses to cast as wide a net as possible in search of customers and business. They play the numbers game in hopes that percentages will work in their favor The problem is, this isn't a very profitable approach and, in truth, does little to differentiate one business from another. Thus, you are just another commodity trying to get noticed. In today's world, smaller, more focused targeting and business models allow you to create a consistent, compelling story to define your brand vis-a-vis other agents. Instead of serving the generic "everyone," perhaps you focus your efforts:
First-time buyers
Narrow geographic definitions: neighborhoods, townships, section of town
Seniors/empty-nesters who are downsizing
Luxury home buyers
Investors/flippers
The tighter your definition, the easier it is to focus your marketing efforts, especially related to content.  Here's the catch: going narrow is a long-term strategy, but one can pay huge dividends down the road as you become the go-to person for whatever niche you select.
2. HOW DO YOU WANT THEM TO FEEL?
Herein lies the magic to brand marketing and the thing that is so difficult for small businesses to grasp. The inclination is to always lead with facts and data or price. So, in the world of real estate, that means most people see you with regard to:
The listings you represent
The homes you've recently sold
The occasional special commission package (i.e. 1% sellers commission)
But here's the problem in leading with facts according to Psychology Today:
Exposure to too much data forces customers to invest cognitive resources they weren't planning on investing
The mere exposure to additional information will automatically trigger the rational response. Once the rational system is involved, the purchase process becomes far more complicated.
Increasingly, in the real estate world, consumers are self-selecting their properties through a variety of online resources. So, when they come to your website or Facebook page, they are looking for someone to guide them through the process, someone they can trust. This is where you can begin to differentiate yourself by moving from facts to telling more stories. Every home, neighborhood, and part of town has a story and your ability to tell those stories, to inject emotion into what you do is what can draw a consumer in your direction.
Let's say you have a listing on a cul-de-sac. Typically, the location gets a simple message (quiet cul-de-sac). What if you could create a story to place a potential buyer in that cul-de-sac:
"This isn't just any cul-de-sac. It's a community where neighbors help neighbors and everyone is involved in taking care of all the kids (it takes a village). It's a place where special days, like July 4th and Halloween, become a reason for a neighborhood party, a time to come together. It's the kind of cul-de-sac where you feel good about your kids running free and where you always need to stock a few extra cases of juice boxes in the summer months."
3. WHAT WILL I DO TO ENRICH THEIR LIVES?
One of the themes Radio and Digital often repeats to real estate agents is: you aren't selling homes, you're creating dreams. Part of the magic in telling stories is you help clients imagine what their life would be like in a certain home or neighborhood.
Consumers feel their life is richer when they use brands they love (or work with real estate agents they like). What can you do to make people's lives richer? For example, if you are the neighborhood expert, your story might include:
Special events in and around that neighborhood
Places to visit in the nearby community (art galleries, etc)
Names of people who can help with specific trades or repairs
eBooks/white papers on everything from spring gardening tips, preparing your home for winter
Restaurant reviews
Inside scoop on school news
There's obviously much more you can do in this regard. Everything is designed to reinforce your brand and the market you serve.
Again, the process of branding begins with deciding who you want to serve. This decision becomes the foundation of your personal brand and guides the stories you create and share with prospective clients.
Next week we'll close this series by looking at how you take all of this learning to the market.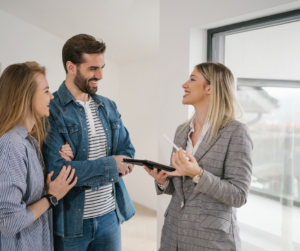 INTRODUCTION This blog post was created for one of the…
Read More