How AI Is Changing Real Estate
Artificial intelligence. The term conjures up images of scenes from "Mission Impossible" with its futuristic tone, but in fact, those of us with smartphones are already familiar with the technology.
When Siri responds to our iPhone questions or Facebook shows us an ad for a product we just searched, we are using artificial intelligence (AI), also known as cognitive computing. We shouldn't be surprised AI software is increasingly being used in consumer-driven industries, including real estate, to provide an extra level of detail to our existing expertise.
Here's what you need to know about how AI is changing the industry and impact it's likely to have on you.
What, exactly, is AI? In the simplest terms, it's the ability for a machine to learn from human behavior over time and solve problems, in much the way the human brain works.
It can be the Match.com of real estate. One of the first areas in which real estate is seeing the effects of AI is in portals and search engines. In much the same way dating sites analyze a user's value system through a series of questions to connect them to a potential mate, AI will do the same to connect home buyers to properties, going far beyond the number of bedrooms and bathrooms and square footage desired.
Making your campaigns more personal. We all send drip campaigns to our prospects and each newsletter says the same thing to each recipient. As AI evolves and continues connecting with our social media, we'll have the ability to construct more targeted and personal content. Instead of the 'one size fits all' content we currently send, we will be able to connect in ever more personal ways, congratulating prospects on life events like retirement and potential downsizing or new babies and the need for larger houses.
Don't fear the technology. When advanced technology, such as AI, is introduced to an industry, there's always a fear job of loss or making humans obsolete. But used correctly, accessing predictive analytics on consumer behavior should assist you with clients at the outset of the relationship and make for a smoother experience. Agents can cede some tasks to computers and software, freeing them to focus on a more personalized level of service as the process unfolds.
The bottom line is that AI is to this generation what MLS was to the last generation. While the technology is still in early stages, it won't replace human relationships nor the complexity of the human brain. Nor can even the smartest and most human-like program replicate the unique local knowledge, experience, and emotional IQs of dedicated real estate professionals.]]>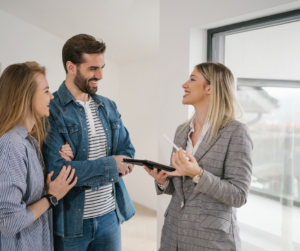 INTRODUCTION This blog post was created for one of the…
Read More