Market Fluctuations: The Ups and Downs of Real Estate
One of the earliest truisms in life we all learn is that what goes up must inevitably come down, and that includes real estate market fluctuations. Every boom is followed by bust, every bull market by a bearish one.
It's much easier to be successful when the market is riding high, so we suggest all agents learn to adjust to times when the real estate business hits a lull. Market fluctuations can stress the best of us so it's important you master techniques that will help you ride the waves without a significant loss. Here are a few bits of advice to keep in mind, no matter what stage of your career you're in.
Real Estate Market Fluctuations
Understand the stages of the cycle. The real estate market cycle has four stages: Recovery, expansion, hyper supply and recession. Investing time to understand what these stages look like as they evolve will help you keep in front of the market wave, so you can continue to succeed, even in slow times. Recovery is the toughest phase to identify as demand can still be slow, so monitor economic and housing data to look for upswing trends. Expansion is easily identified by new build, short supply and a typical seller's market. Hyper-supply is characterized by a declining economy and buyer's market: This is the time in which you'll need you're A-game to work with nervous sellers. You'll know recession by heavy supply and declining prices.
Don't wait for recession to hone your skills. Excellent listing agents will always succeed, no matter the market conditions. Sure, it's easy to close deals in an expansion phase, but don't get so carried away that you neglect continuing education and further development of your sales skills. Think of that kind of training as mental and professional capital you are saving to deploy when sales aren't coming so easily.
Be ready to evolve. It's typical for agents to specialize in certain types of properties, be they luxury, historic or first-time home buyers. Do your research to determine which section of the residential market is apt to suffer most in a downturn and prepare accordingly. Consider adding another type of property expertise to your portfolio so you aren't locked into a tough sales position during a recession. Property management, for instance, is a safe bet as more people turn to renting in a recession.
Boost your marketing.It may seem counter-intuitive to spend more money in a recession, but you need to stand out. Other agents may be cutting their costs, which gives you less competition in the advertising world. For more bang for your buck, spend your time and an efficient budget on content marketing: Video tours of neighborhoods uploaded to YouTube, columns for local newspapers and attention to your blog.
The key to succeeding in real estate market fluctuations is to begin preparing now. With the right strategy, you'll not only survive, but you'll also continue to thrive.
In this post from February, you might find a few other tips that will be helpful the next time the market hits a bumpy path.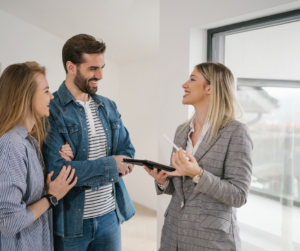 INTRODUCTION This blog post was created for one of the…
Read More