Real Estate Predictive Analytics & Software
Regular readers of this blog know that we focus much of our content on real estate lead generation and conversion. Data shows that agents who dedicate themselves to real estate lead generation are the top performers in our industry. Today's post is about lead generation, but from a different perspective: data, or more specifically, predictive analytics.
From small businesses to a giant behemoth management consulting firm like McKinsey, data analytics is now an essential element in business planning.
DEFINING PREDICTIVE ANALYTICS
Predictive analytics is about using data to make predications about someone's future behavior. The more data available, the more accurate the predictions are likely to be.
Simply, predictive analysis uses existing historical and transactional data to identify opportunities and risks. Credit reports are a common use of predictive analytics, for example.
The beauty of real estate is that we have access to an enormous pool of data. MLS listings alone provide a plethora of information, and the MLS data experts continue to expand the amount of data about home seller and buyer characteristics.
Data analysts then take our real estate data and meld it with consumer metrics available through sources like credit card companies. Using complex algorithms, the data analysts can predict buyer behaviors such as the kind of neighborhoods they'd be looking for, size of home, acreage, etc. Armed with this data, agents can more effectively target their real estate lead generation efforts.
Let's take a look at a number of ways that data and predictive analytics is being used in the real estate industry:
Automate the initial lead engagement process. Analytics can actually help improve the way you engage with customers and thus the likelihood of converting to a sale. You may think you know the questions potential clients are likely to ask based on past experience, but a platform or model can process that information more efficiently, so you can be prepared not only for what questions you'll be asked but how to improve the experience for your customers and convert them to clients.
Improve the value of your existing leads. You already know not every lead is the same and some are easier to convert than others. Lead scoring can help you determine which ones are worth targeting so you can maximize revenue and minimize time waste.
Automated Valuation Models (AVM): AVMs are statistically-based computer programs that use real estate information such as comparable sales, property characteristics, and price trends to provide a current estimate of market value for a specific property.
Develop predictive property recommendations. With the right platform, you can introduce buyers to neighborhoods or specific properties that match their lifestyle rather than a specific search criterion, in much the same way online dating apps work. Buyers may say they want three bedrooms when they intend to use one of the bedrooms as an office. By using data for property matching, you can show them a house with fewer bedrooms but another room – a converted garage space, for example – that can be used as an office.
Cluster analysis: Identifies patterns in the data helping to determine which groups of properties are likely to perform more similarly, and which are more likely to diverge. Obviously, cluster analysis can play an important role in NEIGHBORHOOD SEARCH.
Home improvement: Investment in kitchen and bathroom upgrades always pays off, right? No need to make assumptions when you can analyze the ROI of home improvement. Analytics can evaluate improvements and upgrades to local homes to discern for what buyers are paying and what condition is expected at a specific price point.
We want to close by reinforcing the importance of having a lead scoring model to anchor your real estate lead generation efforts. This doesn't have to be as difficult as it sounds, but you – or your agency – should consider creating an analytics platform that monitors conversion rates based on marketing, for instance. Google Analytics is a platform used by many marketers to identify traffic sources yield best conversions. As another example of analytics, Facebook ads use information acquired through Google AdWords to target appropriate demographics. You may choose to start with one of these existing platforms, but the point is you need a working system for tracking leads.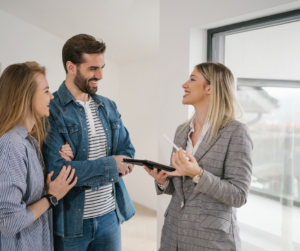 INTRODUCTION This blog post was created for one of the…
Read More