Make a Splash: Build Your Brand With Social Media
Gone are the days when prospective home buyers look through the Sunday newspaper classified ads to look for open houses. You already know that a strong social media presence is a necessity in the business.
Beyond that, you may find yourself at a loss for how to create the kind of memorable online brand that makes you stand out and keeps buyers and sellers seeking your services.
As you push towards a strong finish to the year and develop your 2020 plans, there's no better time to review how you can market yourself better via social networks.
Real Estate Social Media: Best Practices
Be authentic. With so many good agents competing for customers, you'll find the best way to stand out is by being true to yourself. This means that in addition to plenty of industry- and market-centric content, you'll want to post content that makes potential clients feel like they know you as a person. You may include posts about your community activities, how you take joy in your own home (yard work, anyone?) or even photos with family and pets. Buying a home is a very personal experience and giving potential clients a view into your own life is the first step to building a successful professional relationship.
Manage your own accounts. You may find it tempting to hand off management of your social media accounts to an assistant in your office but trust us: You need to do it yourself. Several tools exist to help you with this: Hootsuite is a paid app that allows you to plan out posts and schedule them in advance, limiting the need for daily hands on management. Tweet Deck, part of Twitter's platform, allows you to manage multiple accounts and also includes a scheduling function for Twitter only, while Hootsuite allows you to post on Facebook and Instagram. Take our word for it: It's worth it to carve time out once or twice a week to plan your social media.
Measure metrics. What good is it to implement a creative social media program if you don't measure to ensure you are reaching the right prospects? Facebook, which is the most basic must-have for social media, offers audience insights so you can target your messaging. The insights tool gives you the ability to aggregate anonymous information such as demographics, including age, gender, and relationship status – all tidbits that might help you with your marketing strategy for, say, first time homebuyers.
By now, you surely consider real estate social media marketing a vital part of your marketing strategy, if not the only tool in your bag. Like most other tools, it's only as good as the time and effort you put into it. While social media doesn't replace other tools of the trade like following up on referrals, you should use our tips to refresh your social media plan for the coming year.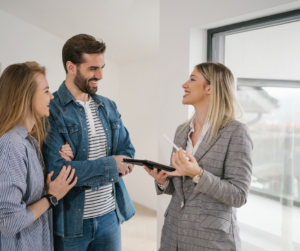 INTRODUCTION This blog post was created for one of the…
Read More