Keys to Top-Notch Service
In April 2019, Forbes magazine reported 19 percent of consumers in a survey select the businesses they want to work with based on customer service.
This should come as no surprise. As real estate professionals, we all know the importance of providing excellent customer service to all our clients: That's what keep referrals coming in, and transactions closing.
While the definition of first-class service is probably a little different for each client, there are a few constants we should always keep on our checklist for client management.
We say this often, but it's true: You can't over-communicate with your clients. Both sides of the transaction – buying and selling – are fraught with nerves, and your job is to make sure your client never has to wonder what is happening. Tell them what is happening at every stage of the transaction, from listing to showing to offer. If they call you, plan to respond within a couple of hours. Today's technology offers us so many options, there's no excuse for not responding quickly.
Train your team. No matter how good you may be, you will be judged by the actions of your team members. One negative interaction with your assistant at the front desk can sour the experience for your client, so make sure everyone knows the importance of giving customers the kid-glove treatment. This shouldn't be an afterthought; it should be part of your culture.
Don't assume. There's an old saying about what happens when you assume something. Needs evolve and the reason they first engage with you may not be the same reason they continue to engage, or to change brokers. To keep them as a satisfied client, you must continue to assess their needs. As you know, it's easier to keep a customer than to get a new one.
Show you care. Sound hokey? It's not. The best agents, the ones who keep referrals flowing and customers coming back through multiple moves, are the ones who develop relationships and friendships with clients. This could mean inviting them to 'family and friend' events each year or keeping track of their children's accomplishment. In today's technology-obsessed culture, an old-fashioned hand-written note or phone call can make someone's day – and make them a loyal client.
Remember the small touches. Everyone can provide 'good' customer service, but to be thought of as excellent, you need to go beyond the basics, and that doesn't need to be time consuming. For instance, plan lunch for a long day of house-hunting: Do your clients have dietary restrictions? What kind of music do they like? A few hours in the car can be improved by your thoughtful creation of a playlist with their favorite artists.
Of course, we are all in this business to earn a living, but don't become so focused on the transactional nature of it that we forget what it's like to be on the other side of the transaction. Empower your staff to help you come up with fun client service ideas, and you'll be sure to have continued success.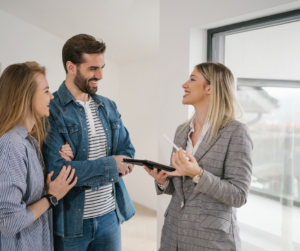 INTRODUCTION This blog post was created for one of the…
Read More