"It's a marathon, not a sprint,' is surely one of the most overused axioms in today's business environment, but it makes sense.
Anyone who has run a marathon knows that if you train too much early, you risk burnout and injury that keeps you from crossing the finish line or even starting the race. On the other hand, delaying too long to train won't give a runner the base needed to complete a 26.2-mile race.
Similarly, while enthusiasm for your career is necessary, those that are too gung-ho are liable to hit the proverbial wall and find they can't keep up the pace needed for a steady career, while those who are lackadaisical may never find the momentum for success.
Just as runners must pace themselves, so must real estate professionals.
Get to the basics. If you find yourself off track, it may be that you've stopped following the basic tools of your trade. Write out your schedule and stick it for 90 days until it's ingrained again. Make sure you schedule includes time for calls, script practice and role playing, exercise and meals.
Small goals are good goals. Just as runners begin their training with short distances instead of double-digit races, so should you set small and achievable goals. One week, your goal might be to make 20 calls each day and get one listing appointment for the week. When you meet your targets each day, you'll feel enthusiastic about your success sticking to a plan and be ready to add more assertive benchmarks the next week. In this way, you progress to higher levels.
Look ahead. Any runner will tell you to keep your eyes on the middle distance: Look behind or straight down you'll trip up. You hopefully wrire an annual plan and break it down into quarterly or monthly goals, but we also suggest a three-year goal. Update it every year as you review what's worked in the prior year and adjust for the next year.
Be accountable. Having an accountability partner works for just about every task, be it athletic training or professional life. Working with one partner or several colleagues to review goals and how you are meeting them is a key component to staying on track in your journey.
Visualize the finish line. Studies show that athletes who mentally run courses or jump hurdles typically perform better than those who don't. You, too, should practice the power of positive thinking by visualizing what you want, be it a certain number of listings or to be a broker in charge of other agents. You have to see what you want in order to stay on track.
Remember, long-term success isn't about who starts out fastest, but about pacing for continued success. You don't need to be a runner to see the wisdom in that.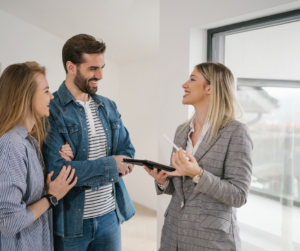 INTRODUCTION This blog post was created for one of the…
Read More