2021 Real Estate: What We Predicted Versus Where We Are
Looking back on the final months of 2020 going into 2021, no one knew for certain how or when our economy would recover. While some areas took devastating hits, others found new successes. And as the light at the end of the COVID-19 tunnel gets brighter and brighter, we're able to compare 2021 predictions to where we are today. The real estate market in particular is one area industry professionals had high expectations for. Now nearly a third of the way through the year, we're taking a look at three real estate projections for 2021 versus where the market actually is today.
Prediction – A seller's market with home prices climbing to record highs.
Actuality – The first few months of 2021 met expectations on this prediction as the low inventory of houses on the market and high buyer demand led to rapid growth in home prices. This combination has created fierce competition in suburban and smaller metropolitan areas across the country. Sellers are being met with all-cash offers, same-day listing offers and even as far as requesting buyers to send personalized letters or videos on why they wish to purchase their home. Looking ahead to summer, prices will likely continue to climb as the inventory of homes on the market flattens out and the demand for purchasing remains high.
How you can benefit – Now is a great time to leverage the state of the market in order to get new clients on board in selling their homes. Homeowners who are looking to move to a new city or state, upgrade their home, or even adapt alternative living styles are in a great position considering the quick churn of the current selling market. That said, this opportunity must be considered alongside the fact that once your clients sell their home, they'll be entering an extremely competitive buyer's market.
______________
Prediction – Mortgage rates will continue to drop, hitting all-time lows and eliciting a refinancing boom. 
Actuality – Mortgage rates averaged 3% in 2020 and have continued to hover around this number through the early months of 2021. However, as economic optimism increases, the pressure for higher rates does as well. This uncertainty, both in the vaccine's impact on our economy and how much of a climb we can expect as a result, puts the upcoming months in a questionable state.
How you can benefit – If your client is looking to take advantage of these low rates but is not entirely sure how much they can afford in a new home, advise them to get preapproved for their mortgage. This way, they will have a clear picture early on of what they can afford and what their budget will be while shopping for homes. As the real estate agent, you can look for homes right in the middle of their budget range.
_____________
Prediction – Real estate agents will take on an even more significant role in buying and selling processes than before the pandemic.
Actuality –  While a portion of transactions moved online during the pandemic, home buyers and sellers are eager to return to traditional in-person, agent-guided processes. Given the competitive state of the market, the need for professional assistance in protecting equity and your client's position in the sale or purchase process is greater than ever. While the pressure to move quickly through the process has negatively influenced unassisted buyers and sellers to forgo important steps, such as home inspections, real estate agents are essential for creating a fair and reliable transaction.
How you can benefit – Selling a home entirely over the internet requires preparation and an understanding of the process behind it. Before a virtual home tour, be sure to have the proper equipment in place and a method for communicating with the client taking the tour. Just as you would in an open house, be sure to prepare for questions regarding a detailed look at specific features, multiple visits to a particular room, or anything else a client may need to feel comfortable in their decision. Additionally, to ensure a booming market doesn't influence an impulse purchase process, reiterate to clients the reasoning behind critical steps in a proper home search and how this competitive market can work to their advantage rather than disfavor.
Bottom line – In your real estate practices this year, make sure you're creating and adapting a selling strategy carefully and are not solely reacting to occurrences in an enticing market. Be sure to utilize the right tools along the way that can help guide your business through shifts in the market and lead you in the right direction in 2021.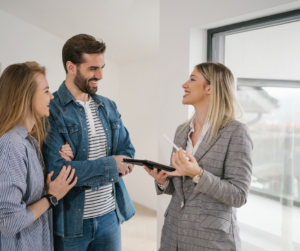 INTRODUCTION This blog post was created for one of the…
Read More