FSBO: For Sale by Owner… AND Fastest Single Business Opportunity
With hot markets and rapidly rising home prices, some homeowners are tempted to try selling on their own without the help of a real estate professional.  FSBOs hope to save money and believe they can manage the process.  However, most unrepresented sellers are unaware of the risks, potential problems, and legal protections necessary in a real estate transaction.  Furthermore, they lack critical knowledge about pricing their home, maximizing exposure, screening potential buyers, negotiating effectively, and closing the deal once under contract.  In short, FSBOs are frequently unable to net the highest in-pocket proceeds for their home in the shortest amount of time.
Nine out of ten FSBOs fail to sell on their own.  And according to NAR, FSBO homes sold at a median price of $217,900 in 2020, significantly lower than the median price of agent-assisted home sales at $242,300.  In fact, Colby Sambrotto, one of the founders of ForSaleByOwner.com, failed to sell his New York City condo as a FSBO. Sambrotto ultimately sold it through an agent for 7.5% more than his FSBO asking price.
While we should always respect FSBOs for trying to sell on their own, it is our job to educate them on how we will save them time, stress, and money.  Here are a few suggestions for working with FSBOs:
Qualify FSBOs to learn of their motivation:  Do they need to sell?  Do they need to sell quickly?  If you get two "yes" answers, do whatever you can to get in front of them.
Call on the first day the FSBO becomes available, and follow up every 3-4 days until the home lists or sells. Keep inquiring about activity level and whether they have received offers.
There is often a sweet spot 2-3 weeks after the FSBO hits the market. If they have no offer in hand, FSBOs start to get realistic about the need for a professional.
While the goal is to set a listing appointment, as a back up, set a preview appointment: "You're right in the middle of where I sell property. I need to see what you have. Would 3 pm or 5 pm today be better for you? Would you like me to bring information on comparable homes?"
Consider providing FSBOs with sign in sheets for buyers, and future pace them:  "When you're ready to list with me, we'll exclude these people from the contract. They can buy directly from you and save, and meanwhile, my team will be bringing you potential buyers. It's the best of both worlds."
This two minute video of agent Nick Grodzicki, who developed a $20 million business in two years, demonstrates the value of FSBO follow up:
With each FSBO, Nick asks questions about timing, does fact finding to determine motivation, educates on how he can sell at a higher price, and follows up diligently to stay top of mind. Nick's most recent FSBO sale was $2.7 million.
Are you making time to call Vulcan7 FSBOs?  Agents who persist with FSBOs will prevail!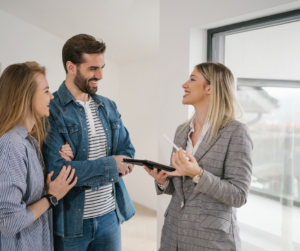 INTRODUCTION This blog post was created for one of the…
Read More