Rent To Owner Listings: An Untapped Revenue Stream
We've become accustomed to discussing the potential of tapping into FSBOs-those homeowners who are trying to sell their property without the support of a real estate agent.  FSBOs have long-been a lucrative revenue source for savvy agents who know how to leverage their expertise to bring value to these homeowners.
Another interesting, and often-overlooked source of revenue are real estate investors, within the category we refer to as For Rent By Owner. There are three pools of FRBO investors:
Individual investors who run their own ads
Investors who own properties but use the services of a property management company to market and show the property
Real estate agents who own their own rental properties.
For Rent By Owner listings are one of the best ways to get in conversation with investors. Successful high producing agents always have a number of investors they work with.  When you call them, you are not necessarily trying to discuss only the home they have for sale but it is a great place to start.
Real Estate Investment Market: An Overview
It's an interesting time to consider purchase another (or a first) rental property:
On one hand, mortgage rates are at a 10-year high so it's a lot more costly to get into the rental business.
On the flip side, there is a demand for rental properties given that housing prices, despite recent declines, are still at record highs.
For those who are new to the world of rental ownership there are two primary reasons to consider jumping into the market:
A rental property provides a steady flow of income. If the owner is lucky, they an offset all or a significant portion of their monthly property ownership costs through the rental payment.
Even with the recent cooling in the real estate market, property prices tent to appreciate over time. So, the longer an owner holds on to a rental property, the greater the likelihood they can sell and turn a nice profit.
Most financial analysts predict a strong market for rental investments over the next 3-5 years. Consider:
Despite the prospect of higher mortgage rates, there will be increasing demand for housing among millennials and Gen Z. Inventory, while expanding, will fall short of meeting this housing demand, resulting in more demand for rental properties.
Investors are expected to double down on real estate in coming years. The pandemic proved that real estate is a tremendous hedge against economic disruption. Investors understand the dynamics of inflation and tend to buy assets that appreciate-and it's hard to find more appreciation than in the world of real estate investment.
For Rent By Owner listings from Vulcan7
As see see from the previous section, the market for real estate investing is likely to remain active in the near future. As such, real estate agent have an opportunity to expand their lead generation portfolio by in
In addition to its best in class FSBO and Expired leads, Vulcan7 offers FRBO leads at no additional charge!  The focus is on the first two categories mentioned in the first section above: individuals who own/advertise their own properties and investors who use a property management company. It's worth exploring the FRBO market because these are often people with multiple properties who are typically active buyers and sellers.
The FRBO lead generation process is no different than working with any other potential prospect: you are building a relationship. To that end, let's walk through the points you might want to make when initiating a relationship with an investor:
You start with: "I'm calling about your rental property at (address). It's a good looking property. Given how active the market is, you might want to sell that property instead of renting?"
If the person is not interested, you continue with some follow up questions: "How often have you been investing? How many other properties do you own, and might you be interested in selling any of those?"
At some point, you may want to bring up the idea of selling and exchanging, through IRS Code 1031, otherwise known as a Like-Kind Exchange.  Here is how it works:
Like-kind exchanges — when you exchange real property used for business or held as an investment solely for other business or investment property that is the same type or "like-kind" — have long been permitted under the Internal Revenue Code.  Generally, if you make a like-kind exchange, you are not required to recognize a gain or loss under Internal Revenue Code Section 1031. If, as part of the exchange, you also receive other (not like-kind) property or money, you must recognize a gain to the extent of the other property and money received. You can't recognize a loss.
If the Like-Kind idea appeals to the investor, you can follow-up with basic questions:
How much are you thinking you'd want to invest?
How big of a property interests you?
How many bedrooms? Bathrooms?
What neighborhood interests you?
What part of town?
Once you have a "wish list," you promise to get back to them in a stated period of time.  You've now established a relationship that gives you permission to stay in touch with a potentially lucrative source of revenue, long-term.
Vulcan7 makes it easy for you to explore the revenue potential of the FRBO marketplace.
Learn More About For Rent By Owner Leads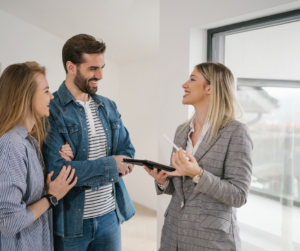 INTRODUCTION This blog post was created for one of the…
Read More