Leverage Your Real Estate Sphere of Influence
Most successful, prospecting-driven agents know the importance of building and maintaining their real estate sphere of influence (SOI). While your SOI may not represent the same level of immediacy or urgency as expired listings or even FSBOs, it does represent a solid foundation for future revenue opportunities.
In the broadest sense, your SOI is comprised of nearly everyone who knows, likes and trusts you. These are people with whom you have some level of rapport, such as:
BUILDING YOUR SPHERE
Your SOI is essentially anybody with whom you have built some of rapport over the years. Let's take a look at some of the obvious places to build your sphere:
Friends and family members
Neighbors and friends of neighbors
Neighborhood and community groups
Volunteer activities
Former high school or college classmates
Religious fellowships
Parent teacher groups
Gyms and community sports teams
Book clubs
Country clubs
Hairdresser/barber/massage therapist
Car mechanic
Doctors, dentists
Restaurants, bars, coffee shops
Handy person, house painter
Gardner/landscaper
You can probably add many more real estate sphere of influence sources to this list.
Of course, your SOI also includes former clients with whom you've had a working relationship, either as a buyer or seller agent.
HAVE A PLAN
If you're a Vulcan7 client, you are lucky to have an industry-leading CRM system to keep yourself organized. Many top performing agents devote time each day to SOI outreach. And remember, every person in your VULCAN 7, SOI database has their own network of friends and acquaintances, meaning you have exponential opportunities for referrals, because nearly everyone knows someone who needs a real estate agent at one time or another. Some top agents estimate that as much as 50% of their revenue comes through SOI referrals or recommendations in a given year.
There are myriad approaches to SOI outreach, but here are a few considered to be the most effective:
One-on-one meetings can be effective, such as lunch or a morning coffee, especially if it's someone with whom you've build a solid relationship.
Client appreciation events, such as a Kentucky Derby party on the outside patio of a local tavern/restaurant.
Send an early spring email in March with your personal recommendations for landscapers or suggestions where someone can get the best deals on plants for the new season.
Fundraising or charitable events represent an opportunity to reach out to your SOI, either to seek donation, or, better yet, to ask if someone can volunteer their time.
While nurturing your current SOI database is important, always work on expanding your contacts, through any combination of the following:
If you're out shopping or at your kids' sporting events, wear something that includes your company/business brand logo.
Be active and engage on social media, with comments, likes and shares.
Get out of your comfort zone and strike up conversations with people, in line at the grocery store, at the health club…wherever the opportunity presents itself for some one-on-one chat.
Don't miss an opportunity to hand out your business cards, such as leaving a card when you pay their check at a restaurant.
Be an active, engaged member of your community.
OUTREACH
The thing to remember about  real estate sphere of influence is that it's not just about the numbers. You can add countless names to your SOI database. But it's how you are able to nurture those contacts that will determine your success in generating revenue from your sphere in the long run. To that end, as we mentioned above, it helps to spend some of your prospecting time each day in the service of SOI outreach. You are not selling, but simply making contact, keeping your name top of mind for when someone you know needs an agent for themselves or someone in their network of friends and family members.
So the key to developing a strong SOI is to make your outreach as personal as possible. Here are a few things to consider:
You want to create meaningful connections with people. Therefore, your SOI outreach is not about selling. You don't want to focus on you, and your accomplishments. Instead, you want to find out if there anything you can do to provide a service.
The more meaningful your connections, the more you go a long way toward building trust. People want to do business with those they trust.
And, the more someone trusts you, the more likely they are to recommend you if someone in their personal sphere is looking for a real estate agent.
BONUS TIP
We are all familiar with the power of video in today's communication ecosystem. People are more likely to engage with a video that any other form of outreach.
But imagine reaching out to your real estate sphere of influence with a personal, video email. As a Vulcan7 customer you now have the ability to create and distribute personal emails to your SOI through the StoryTellr platform. A video email is an awesome way to make a personal connection with your sphere. And StoryTellr makes it simple to create, store and send personal videos to your sphere. Learn more about StoryTellr HERE.
So, what are you doing to build and nurture your real estate sphere of influence?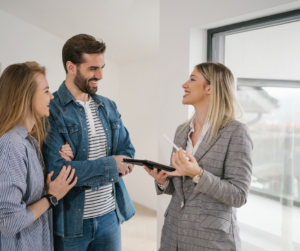 INTRODUCTION This blog post was created for one of the…
Read More