Master Circle Prospecting With These Tools
Most top performing agents incorporate circle prospecting, otherwise known as neighborhood farming, into their prospecting mix. There are myriad ways to circle prosper, but the most successful strategies are build on using the best possible information to guide your process.
Vulcan 7 has been a longtime leader in providing top agents with the most current and accurate data, coupled with the best CRM platform in the business.
In this post, we'll walk you through the important aspects of circle prospecting, along with an in-depth look at Vulcan 7's Neighborhood Farming tool.
CIRCLE PROSPECTING DEFINED
Circle prospecting is prospecting an area/neighborhood in close proximity to one of your recent transactions. The two most common forms of circle prospecting are:
Prospecting around a property that you have "Just Listed." In this case, you are reaching out to nearby homeowners to determine if they know someone who might be interested in moving to their neighborhood. This type of prospecting can be particularly effective if the neighborhood is within a highly desirable school district, for example.
Prospecting around a property that is "Just Sold." In this scenario, you are calling nearby homeowners to let them know that you had numerous, interested buyers for that property; an indication that the area is in high demand. If your timing is right, the prospect may be ready to jump into the market if it was something they had been contemplating previously.
THE GOAL OF CIRCLE PROSPECTING
Most real estate agents fail to understand the actual purpose of circle prospecting. Yes, the goal of prospecting, in general, is to get a listing that will generate revenue in the near term. But unlike prospecting expired listings, for which there is typically an urgency to sell NOW, circle prospecting is really a long-term strategy.
Your goal is to develop rapport and a relationship that you can leverage when it comes time for them to sell their home. Your goal is to be the agent that they think of first. This doesn't mean that you don't ask for the business now, but you have to be realistic and patient, understanding that they might not be ready for a number of years.
Some agents refer to it as "planting seeds," which is why circle prospecting is also known as neighborhood, or geo-farming. Regardless of the term you use, your goal is two-fold:
You want to put yourself on their radar if they want to buy or sell in the near future.
You want to establish your brand identity, which hopefully translates into authorityfor your as someone who truly understands the neighborhood.
VULCAN 7 NEIGHBORHOOD SEARCH
Vulcan7 Neighborhood Search is the best Neighborhood Search data on the planet. With its powerful CRM and built-in dialer, hands down, you can't get better than this! Make more calls AND talk to more people with our enhanced neighborhood data. Use this powerful data to not just reach new clients, you can also use this product to update your existing database with missing/outdated info.
Vulcan 7's Neighborhood Search has long-been considered the best in the industry. It features a powerful CRM and built-in dialer that allows you to make more calls to more people with its enhanced neighborhood data.
Following is a breakdown of the key features of Vulcan 7's Neighborhood Search.
Real Estate Neighborhood Data
Get real-time contact data for your neighborhoods using Vulcan7's real estate geographic farming tool. Every query searches the live database and returns the freshest data to get you in contact with homeowners that need your help more quickly. Whether you're looking to prospect a single address, a database of contacts, or a geographic area, Vulcan7 Neighborhood Search can help you find your next listing.
Find just the homes you are looking for with our advanced filtering system: search for absentee owners, by the length of ownership, property value, or look for just single or multi-families.  You can even search by property details like the number of bedrooms, square footage, or acreage.
VULCAN 7 NEIGHBORHOOD REAL TIME/LIVE DATA RESULTS
Once you enter a query, Vulcan7 begins searching a live database with current contact information in real time, unlike historical archived databases other neighborhood searches use.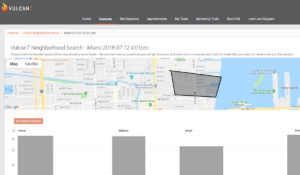 QUICK RESULTS
V7 Neighborhood Search returns results in batches allowing you to start dialing on hot leads right away. At any time, request more leads and the next batch will download. Don't wait for thousands of results to load just to spend all of your time dialing through old contact info. We know your time is valuable, get to what matters – faster.
Range Search
Enter an address, then select miles to draw a radius or use the radius draw tool and draw your own radius.
Vulcan 7's filter tools in this search to select absentee owners, multi or single-family, property value, length of ownership, or property details like a number of bedrooms, bathrooms, square footage, or acreage.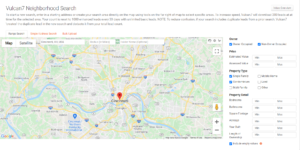 RADIUS SEARCH
Enter an address then select miles to draw a radius or use the radius draw tool and draw your own radius.
SINGLE ADDRESS SEARCH
Use an existing address to quickly find contact information.
BULK UPLOAD
Bulk Upload is a great way to locate contact data for a group of addresses. Upload your existing database and easily reconnect with those you have lost touch with due to out of date or missing contact data.
NAME SEARCH RANGE
Name and save your search to quickly find specific neighborhoods when you return
CONTACT FOLDERS
Each search is nicely packaged into a folder based on the 'custom name' you provided. This makes it easy to return to your neighborhoods and begin dialing more of the great leads.
Whether you are using circle prospecting as one part of your prospecting matrix, OR, you want to focus on being the neighborhood expert in your area, it's worth checking out Vulcan 7's Neighborhood Search. Learn more HERE.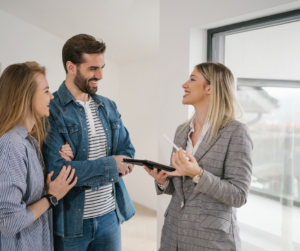 INTRODUCTION This blog post was created for one of the…
Read More