Real Estate Prospecting with Video Email
One of the residual impacts of the pandemic is America's embrace of personalized, one-to-one video. Most people never heard of Zoom before March, 2020. Now, it's hard to imagine life without Zoom (or Google Meet, or WebEx, etc.).
Our embrace of video reinforces the emotional benefits of seeing someone's face. It's both comforting and reassuring to be able to see someone's face , even if it's on a computer or smartphone screen.
BUILDING TRUST IN REAL ESTATE
As a real estate agent, you appreciate the importance of personal engagement to build trust with your prospects. Perhaps nowhere is trust more important than in working with your sphere-of-influence (SOI). Your sphere represents long-term opportunities for both repeat business and, perhaps more importantly, referrals. The more someone trusts you, the more likely they are to pick up the phone and call you when they need an agent, or when they know someone who needs a real estate pro.
There are a variety of ways top agents stay in touch with their sphere. Some use drip email campaigns, while others rely on Facebook or Instagram postings. And, of course, you can't beat periodic phone check-ins can be a standard part of your sphere marketing arsenal.
STORYTELLR VIDEO EMAIL
One of the most effective tools an agent can use when real estate prospecting is video email. And, as a Vulcan7 client, your real estate lead generation toolkit includes StoryTellr video emails. Storytellr is a powerful video email platform that can help you develop more personal and meaningful engagement with your SOI.
Storytellr video emails are built into your Vulcan 7 platform and available with every account. Designed by top-producing real estate agents for agents, the built-in video email capabilities simplify the process of creating and sharing personalized video emails to your database. StoryTellr created helpful tutorials to get you started, as well as several built in templates as well. There are also several service upgrade options available once inside the Vulcan 7 platform. These upgrades give you access to more advanced assistance with creating video business cards or promotional videos.
The power of video email lies in its ability to create more intimate engagement with your sphere. Many people may find a video email a welcome break from the endless stream of impersonal emails they receive each day. That said, it's also important to remember that video emails are not necessarily a "hard-sell" tactic, but something you use to just stay connected with your sphere
VIDEO EMAIL TIPS
Here are a few ideas to get you started with video email:
RECONNECT: Let your sphere know you've been thinking about them, and ask if there is anything you can do to help them out. Sometimes, simple outreach is the best approach.
DID YOU KNOW: Send a video email to update your SOI on what's happening in the real estate market: mortgage rates, supply/demand, etc.
I JUST SOLD: Video emails can be valuable for circle prospecting, for example: "Hi NAME, I wanted you to know that I just sold a property in your neighborhood. I have a number of buyers who like the neighborhood so I wanted to see if you might be interested in listing your property."
I JUST LISTED: By the same token, sending a video email to someone in close proximity to a recent listing of yours could pay dividends: "Hi NAME, I wanted you to know that I just listed a property near your home. If you know anybody interested in moving to this area, perhaps you can connect us."
NEIGHBORHOOD NEWS: A video email supporting local, and especially new businesses might be well received by your SOI. Perhaps you have a few recommendations on great new restaurants, bars, etc.
SEASONAL: If you're a gardener, it's the time of year when garden centers are blooming with spring flowers and great prices. If you know someone in your sphere who loves to garden, share a few tips on where they can find great selection at excellent values.
Real estate agents have often been the "go-to" resources in their communities. That's what makes StoryTellr video email such a compelling, brand-building idea for any agent.
IMPORTANT: While video email can be a powerful tool, it is critical that you utilize it in a legally compliant manner.  Agents MUST follow your own legal opt-in protocols to avoid being flagged as a spammer.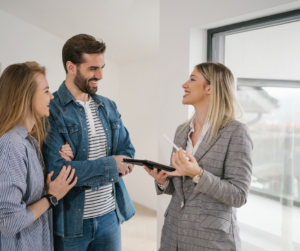 INTRODUCTION This blog post was created for one of the…
Read More