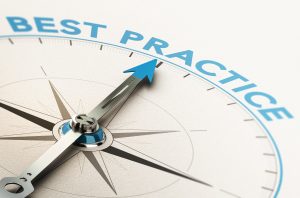 Upping Your Customer Service Game
We discuss customer service a lot in our posts, but that's because there is almost literally nothing more important to your success in real estate: There is a direct correlation between your income and the service you provide.
Yes, you need efficient systems in place and yes, you need to continue prospecting, but both of those are in service of delivering the best assistance possible to your clients. In that spirit, let's again take the opportunity to review how you can be most attentive to your client base and keep them coming back and gladly providing referrals.
Under promise and overdeliver.During your first communications with customers, clearly spell out what you will do and it's always better to under promise. For instance, don't tell someone you can sell their house in a day, even if you have prospects in the wings! This is not to say you should set low expectations; you can and will provide top-notch service while still not making wild promises that you can't fulfill.
There really is no such thing as overcommunicating.One of the quickest ways to lose a customer's trust is to go radio silent. Block a few hours out during each week to check on your client base – buyers and sellers – even if it's only to let them know when there isn't news. Don't leave customers in the dark, guessing what's happening. We also recommend you respond quickly. Prompt responses are one of the simplest ways to show you care about a client's business.
Ensure your staff is engaged. Customer service isn't just about you but about everyone in your office, from front desk staff to managing broker. Set expectations for how you expect everyone dealing with your firm to be treated, for no matter how exceptional you and your individual team may be, an unkind attitude from front office staff can leave customers or potential ones with a bad taste.
Anticipate needs.You don't need to have extrasensory powers to anticipate what will be on the client's mind, especially if you've been in the business for a while. Don't wait for them to ask a question.
Say thanks.So simple, and yet we need to be reminded everyone likes to be thanked for their business! Make your customers feel appreciated through all your actions, including verbal thanks and closing gifts.
Finally, one of the best ways to ensure you are providing service with which your clients are happy is to conduct an annual survey. Online tools like Survey Monkey make it simple for you to communicate with clients past and present to determine how you can become more sensitive to customer needs and stay at your best.
How Artificial Intelligence in Real Estate is Changing the Game…
Read More