The Importance of Understanding Your Value Proposition
What sets you apart from your competition? How does a prospect know you're the right person to handle one of the most important financial decisions of their life? There are a lot of hard-driving agents out there-what separates you from the pack?
Or, to ask it another way: what's your VALUE PROPOSITION?
Your sales value proposition, or SVP, is a powerful messaging tool for communicating the unique value of the solution you're selling. Unfortunately, most value propositions in sales fall short of delivering on that promise.
Salespeople fail to articulate value when they commit the three deadly sins of sales messaging:
Providing too much information
Not describing value from the buyer's perspective
Failing to identify what's different about them
If you haven't considered your value proposition lately (or ever), here are a few tips to get you started:
STANDING OUT
What, if anything, do you do to differentiate yourself from the next agent who might be prospecting as aggressively as you? Many top performers invest in offerings that will set them apart. Examples include:
Offering high end, professional photography.
Employing technology to differentiate yourself, such as using unique virtual tour applications.
Are you willing to pay for pre-inspection expenses?
What staging expertise are able to offer?
Is there anything you can do to pre-approve a loan?
PRESENTING YOURSELF
Sales, and especially real estate sales is driven by making good first impressions, whether on the phone or in person. Whether on Zoom or on your first face-to-face meeting with a prospect, you will be judged by how you look and present yourself. When it comes to your attire, take the approach of "over-dressing" because you always want to look better than your prospect. Invest in high quality leave behind materials. If you're not tech-savvy, hire a graphic designer who can make your story pop! Never, ever be late for an appointment. Use the philosophy that on time actually means ten minutes before your meeting time. Smile, and project confidence.
PROJECTING AUTHORITY
Your prospect needs to feel comfortable that they can trust you with their listing. That's why you need to show them that you are an authority, the right person for the job. Here are a few thoughts on projecting authority:
Reinforcing what we said above, look like an authoritywhen you walk through the door, in your attire, grooming, posture and, above all attitude.
Know your real estate scripts thoroughly. In particular, make sure you are well-versed on handling the objections that are sure to come your way.
Know the neighborhood, inside and out. Try to uncover nuggets that others might miss and will set you apart.
Come equipped with a well-defined pricing strategy driven by your professional, experienced interpretation of current market dynamics.
Always be listening; understand your prospect's needs, concerns and fears. A good rule-of-thumb a talking to listening ratio is 30%/70%.
Give some time to reflect on the qualities that differentiate you from the other agents in your area. Clarity as to your value proposition will yield more listings, and also translate to more referrals from satisfied clients.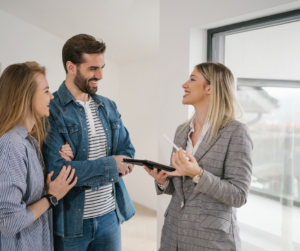 INTRODUCTION This blog post was created for one of the…
Read More