5 Steps to Better Customer Service in Real Estate
Customer service is a common theme in this blog, and for good reason. Great customer service, regardless of the industry, is what sets the best apart from everyone else. Clients and customers remember great service, and are more than likely to share their positive experience with others.
Or, put another way, great customer service is the best possible way to define your personal brand. And real estate agents need a polished personal brand given how much competition is out there.
So, we thought we'd revisit the topic of customer service, with these five tips that will help set you apart from the field. Pay attention to these customer service suggestions to make sure you always win your clients over.
OVER-COMMUNICATE: There's nothing more frustrating to a homeowner than a lack of communication (or, worse yet, poor communication) from their real estate agent. You need to be committed to a pro-active approach to staying in touch with your clients. You can never check-in "too much." If you say you're going to get back to them in two hours, make it happen.This communication focus is particularly important as you move into the listing/offer phase of the relationship. You can safely assume that your client will be anxious during this period and will want to know what's happening. As such, make it your goal to keep them in the know.
PRACTICE EMPATHY: Empathy is another theme we like to reinforce at Vulcan7. In fact, research tells us that empathy is one of the most important qualities to have if you want to be successful in sales, especially real estate sales. Try to make an emotional connection with your clients, digging deep to understand their needs, fears and anxieties. Empathy is the ideal way to build trust, and trust creates the opportunity for referrals. An important note here: do not practice "fake empathy." Don't say "I know how you feel" unless you truly know how the other person feels.
WORK WITH THE BEST: Your credibility relies as much on your trade partners as on you, so it's vital your office staff be on top of their service game. Likewise, only refer mortgage bankers, inspectors, and service providers you can count on, because they are a reflection on you. If you know a great landscaper or plumber or painter… make those introductions, as long as you feel comfortable that the tradespeople you recommend will deliver on their promises.
HANDLE PROBLEMS QUICKLY: The way you respond to difficulties can make or break you. Be direct and assume responsibility, for even if you aren't the direct cause of a problem, the buck stops with you. And, you will experience an occasional crisis, so be prepared. Apologize and be ready to fix the situation.
PRACTICE TRANSPARENCY: Remember the old saying: "Honesty is the best policy." Maintaining an honest, open relationship with your clients is another important building block of trust. Most people inherently shy away from confrontation or uncomfortable situations. Which means they might be reluctant to share bad news, in particular. But absolute transparency tells your client that you have their back, and that you're not just in it for the commission check.
Finally, you must always keep your word. This is likely one of the first bits of guidance you got in business, and for good reason. Once you've broken trust, it's difficult to regain it, so keep your word, follow our tips, and you are on your way to a winning customer service plan.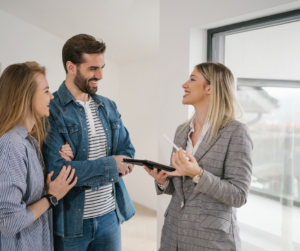 INTRODUCTION This blog post was created for one of the…
Read More