Building Rapport with Clients in Real Estate
One of the biggest challenges or any real estate agent is building rapport with a prospect. It's estimated that, when engaging a prospect for the first time, a seller has between 10-15 seconds to make a good impression. Or, in other words, to build some initial rapport.
What is rapport?  Rapport forms the foundation of forming close, meaningful relationships between people. A natural connection forms when you meet someone you like and trust, and who may have a point of view you can relate to.
Real estate agents playing at the top of their game may talk to dozens of prospects every day. Unless these are executional calls with existing clients or a touch-base with someone in your sphere, the bulk of these interactions is with strangers. This is where building rapport with prospects becomes essential for navigating toward a successful outcome.
For some people, building rapport with prospects is much easier in person. When phone prospecting with a lead generation and CRM platform like Vulcan 7, you don't have the luxury of an initial face-to-face meeting. So, you have to start by building rapport with clients on the phone, and you have to try and connect quickly.
Herein lies the question: how to build rapport with clients when most interactions are with strangers and predominantly over the phone?
This can be particularly intimidating when calling new expireds. They are most likely highly frustrated (and even angry) that they haven't been able to sell their property. And your call may be one of many they've received that morning, most of which deliver a very similar "expired" script. After a day of agent calls, they will begin to notice that everyone sounds the same.
So, how can you start building rapport before getting on a call? The key lies in preparation – taking time to understand the client's needs, their property, and market dynamics are easy ways to give you a head start. However, there are a few behavioral techniques you can also include to ensure you're doing your best when creating a relationship with a stranger over the phone.
Here are a few tips to follow when building rapport with prospects:
Be genuine:

Nobody can argue with the value of working with

real estate scripts

. However, instead of just reading your script, try to "internalize" it. Make the script sound like it's yours, and it sounds natural in your own unique tone. Add your own words and inflection points.

By being

open

and sincere, you can

create effective

connections with people who would be otherwise closed off if they feel like they're getting pitched.

If you have a role-playing partner, you can practice your internalized script every morning to help you get comfortable with it before hitting the phones. The other good thing about internalizing your script is that it frees you up to listen more intently, and to ask better questions.

Mirror and match:

Behavioral research show that mirroring and matching—copying other people's body language, mannerisms, and repeating their words— helps build trust and establishes rapport. Obviously, over the phone, you cannot mirror someone's body language. But you can mirror, and even match, their voice intonations, inflections and rate of speech. In fact, you can start getting on your prospect's wavelength right from the start just by listening carefully and mirroring their "hello." 

Use strategic pauses:

This is challenging because it's not in our nature to pause, especially when talking to someone on the phone.  In fact, many agents often power through a phone conversation, often because they're so excited to have actually made a contact and don't want to waste the opportunity. But here's the problem: when you're powering through you could be sending the message that you're not listening to what's being said. Know where to add a pause in your script to catch your breath and let critical points hang in the air for a few beats.

Remember

that natural conversations have ebbs and flows, and you can control these lulls to pique the prospect's

interest

.

Focus on your downswing:

Research shows that an upswing in the tone of your voice makes a prospect feel doubt and skepticism. But the downswing allows them to feel certainty, which translates to authority and trust.

Remember, your voice plays a pivotal role in

building rapport with prospects

, as it's the primary tool for communication and persuasion over the phone.

Pacing and lead:

The more you lead an initial conversation with enthusiasm, the more likely it is the prospect will follow your lead. Just make sure it is genuine enthusiasm, because most people can tell when another person sounds fake.

Record yourself:

One of the most valuable things you can do is to record yourself in actual conversations with prospects. You'll quickly take note of any language quirks or habits you may have, such as the excessive use of "uhm" and "you know."
Remember, building rapport over the phone isn't always easy, but with strategies like mirroring and matching, strategic pauses, and focusing on your downswing, you can effectively bridge the distance.
As we've written previously in this blog, when selling real estate, move your attitude and purpose from "making the sale" to "making a difference" in the life of your prospect. Such an attitude will come across in the tone of your voice, and go a long way toward building critical rapport in an initial call with any prospect.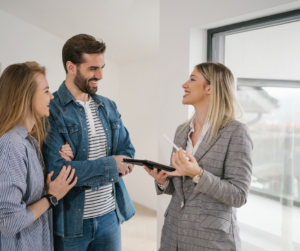 INTRODUCTION This blog post was created for one of the…
Read More