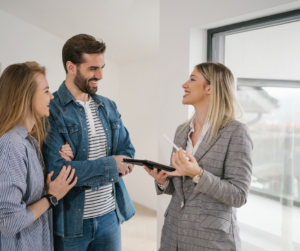 How to Become a Successful Real Estate Agent

INTRODUCTION
This blog post was created for one of the following groups:
You're thinking of entering real estate as a new career.
You are fairly new to real estate.
You're a real estate veteran but falling short of your expectations.
Regardless of where you land, you likely want to understand HOW TO BECOME A SUCCESSFUL REAL ESTATE AGENT. If so, continue to read, as this post will cover various tips used by the MOST SUCCESSFUL REAL ESTATE AGENTS.
But let's start with a reality check. Real estate is a difficult business. Most real estate agents barely get by—no reason to sugarcoat things.
The flip side is that real estate allows you to make an AMAZING MONEY while enjoying a fair amount of freedom and independence.
For the purpose of this post, we'll focus on how a SUCCESSFUL REAL ESTATE AGENT takes the time, energy, and money to be in the exclusive group making AMAZING MONEY.
FOCUS ON LISTINGS
There are two types of real estate professionals: listing agents and buyer's agents. Each type of agent plays an important role in keeping the real estate ecosystem rolling along.
Listing agents tend to be the highest earners in our industry. They are the hunters who track down the best prospects and use the skills and tools discussed below to secure listings. Listing agents are in the production business and know the importance of staying focused and disciplined.
There's an old saying that "buyers take time, listings take skill." It takes time and patience to drive buyers around town looking for their ideal home. It can be a lot of work for an agent without guaranteeing a return on the time invested. And that model works for many real estate agents who don't feel comfortable prospecting.
On the other hand, listing agents understand the ups and downs of prospecting leads. They embrace rejection, knowing that every rejection takes them one step closer to what could be a lucrative listing. Plus, they get to enjoy their weekends.
The remainder of this post will provide you with a game plan for HOW TO BE SUCCESSFUL IN REAL ESTATE.
INVEST IN TECHNOLOGY
EFFECTIVE AGENTS know real estate lead generation begins with advanced technology, like that offered by Vulcan7. Top-producing agents across the country use Vulcan7 because it provides a multi-faceted platform that includes:
If you want to be the MOST SUCCESSFUL REAL ESTATE AGENT possible, investing in a real estate lead generation system like Vulcan7 will give you a solid competitive edge in your MLS.
Vulcan7 provides real estate prospecting software with a focus on four major areas of prospecting lead data:
Expireds are those homeowners who've tried and failed to sell their property. Perhaps it was priced poorly. Or, maybe the agent didn't do enough to market the property. Or, it's possible they withdrew the property from the MLS because their life plans changed. Whatever the reason, you know that expireds were, at some point, actively trying to sell, thus, a potential revenue opportunity for you.
Here are two of the many benefits of phone prospecting expired leads:
Typically, a homeowner who did not sell the first time has an increased urgency to sell the second time. If you stick to your expired listing scripts, that gives you a good chance
Working with expired listings allows you to make significant GCI over a shorter period of time, especially when compared to working as a buyer's agent.
Vulcan7 provides our customers with expired leads every morning, seven days a week, giving them the most accurate contact information in the business.
Since 9 out of 10 FSBO listings fail to sell without an agent getting involved, FSBOs are a great opportunity to generate income. Building a relationship with the owner before they begin actively looking for an agent will put you on their radar when they realize they do need an agent.
It's always important to recognize that FSBO prospects require more TLC than the average homeowner.  That's why you want to do your best to stay in touch and build trust so you become their "go-to" agent when they've had enough of going solo.
Regarding the best ways to prospect in real estate, FRBO listings represent a unique opportunity. While the owners usually aren't looking to sell that specific property, it generally isn't the only one they have. Working with owners who list FRBO properties can reveal information about other lucrative options.
Whether contacting the neighbors of your listings, creating buzz for your open houses, or farming buyers and sellers in any area, EFFECTIVE AGENTS need a good real estate prospecting tool for circle prospecting. Vulcan7's Neighborhood Search products help you get on the ground in your targeted area with your existing database. Upload your existing database, and quickly and easily fill in the blanks with your clients you may have lost or missing contact data.
Real Estate CRM
CRM (Customer Relation Management) is a common term in business. But it is particularly critical in real estate as thousands of agents compete to stay on top of an ever-changing landscape of contacts, leads, qualified prospects, etc.
According to a survey by Inman, it is estimated that three out of four agents use some CRM system.
Many real estate CRM systems are available to help agents maximize their efficiency and effectiveness. Vulcan7 is considered one of the leading CRM platforms in the business.
The growing popularity of Vulcan 7 stems from the fact it is highly functional yet simple to use. Let's take a look at some of the reasons why the Vulcan7 CRM system is so highly regarded:
Manages all of their leads in a user-friendly platform
Offers an interface that makes note-taking easy
Schedules all follow-up activities to maximize their efficiency
Customizes layouts and tags
Provides a powerful advanced search program
Allows agents to develop and deliver customized email messages
Simplifies the process for planning and delivering email campaigns
Coordinates broadcast campaign delivery
Facilitates intra-team communication-giving each member their own log-in access and the ability to maximize team productivity.
Provides team management and admin control with effective reporting protocols.
Here's the reality: a solid real estate lead generation and CRM system, such as Vulcan7, is the key to success for the top-producing listing agents in our industry. These top producers consider CRM an "investment" in their long-term success instead of simply being an expense on their budget sheet.
EMBRACE ACCOUNTABILITY
"Accountability is the glue that ties commitment to the result." —  Bob Proctor
Real estate agents are independent contractors. They must be self-motivated to work and perform at a certain level.  Most agents know what to do, but knowing is not the same as doing. You can avoid this potential pitfall by creating accountability.
If you want to know HOW TO BECOME A SUCCESSFUL REAL ESTATE AGENT, it begins with holding yourself accountable to high standards.  They have strong, personal commitments to the work they need to do and the clients they want to serve.  They also set measurable goals and surround themselves with external layers of accountability to stay on track.  Examples of external accountability include:
Real Estate Coach — It's no coincidence that many of the MOST SUCCESSFUL REAL ESTATE AGENTS invest in a professional coach.
Accountability partners — Are you calling?  Have you met your contact goal for today?
Role play partners — Script and objection handling practice with different personality styles
Mastermind groups — Generate new ideas tackle challenges together
Group prospecting — Energy, motivation, and commitment in group setting
Phone prospecting is one of the most daunting aspects of real estate lead generation, especially for newer agents. That's why top-performing agents lean on scripts to keep them focused.
When you call someone and don't use a script, the natural tendency is to jump in with a litany of facts about yourself, your experience, success stories, etc. You might be so thrilled to have somebody answer that you don't want to give them an opportunity to end the call. Keep at it at all costs!
Well, the reality is two complementary strategies drive success in real estate sales:
Learning how to ask effective, probing, and, most importantly, open-ended questions.
Learning how to truly listen to how your prospects answer those questions to understand their dreams and motivations better.
The data varies, but the overwhelming evidence is that agents who use real estate lead generation scripts vastly outperform agents who choose to wing it.
PRACTICE LEAD FOLLOW-UP
Here's a fact worth putting in the back of your mind: MORE BUSINESS IS LOST from a lack of lead follow-up than from a lack of real estate lead generation.
Top-performing real estate agents get 70-80% of their listing appointments due to their persistent follow-up efforts. Here's what's amazing: about half of all agents don't even follow up with prospects after their initial phone call. And only a quarter of those agents will make a 2nd follow-up call.
So, the lesson is simple: if you're not totally, obsessively fanatical about follow-up, you'll lose a lot of money on several fronts. First, you'll lose income by not getting the listing. Second, you might get labeled as the agent who doesn't follow up, thus hurting your chances for referrals.
Here are three HABITS OF SUCCESSFUL REAL ESTATE AGENTS who put a premium on effective follow-up.
Schedule follow-up time daily: As you block off hours each day for phone prospecting, set aside time for follow-up. A minimum of 30 minutes daily should suffice to keep you connected and top-of-mind with your prospects.
Understand your prospect's motivation. Use your first call to learn about the homeowner's hopes, dreams, and, most importantly, motivation to sell. Knowing your prospect as much as possible gives you a reference point for subsequent calls. Plus, you'll reinforce that you heard what they said, which goes a long way to building trust.
Bring value to your prospect. Start each call with something interesting and worthwhile, such as the most recent market stats. Your prospect will know you're approaching the process from a service perspective. This will make them more comfortable and, again, help build trust.
HOW TO SUCCEED AS A REAL ESTATE AGENT: HAVE A BUSINESS PLAN
According to the NAR, 87% of all new agents fail within five years. While there are myriad reasons to account for the success of the remaining 13%, a common thread among them is a focus on business planning.
Your business plan serves as the benchmark for measuring your accountability. That's why you want to be specific when putting your plan together. The best real estate business plans DRILL DOWN DEEP to define actionable, measurable goals, such as:
Transactions and/or revenue TARGET over the next 12 month
Understanding the average commission per transaction in your MLS
How many listings do you need to reach your goal?
How many listing presentations will yield a single listing?
How many conversations do you need to make to get a listing presentation?
How many calls do you need to make to connect with a prospect?
A business plan requires you to stay focused on your expenses. Your goal as a business owner is to turn a profit at the end of the year, which means you'll need to be obsessive about staying on top of your expenses:
Personal expenses: Housing, vehicles, health insurance, utilities, education, entertainment.
Business expenses: Vehicle, phone, office space, business taxes, website hosting, etc.
Start-up: If you're relatively new to real estate, you must consider basic start-up costs, such as website development, licensing fees, business cards, and onboarding fees to a brokerage.
And, of course, as outlined above, what are you willing to invest in your business to reach your goals?
BUILD A SPHERE OF INFLUENCE
A SUCCESSFUL REAL ESTATE AGENT knows the importance of building and maintaining their real estate sphere of influence (SOI). While your SOI may not represent the same immediacy or urgency as expired listings or FSBOs, it represents a solid foundation for future revenue opportunities.
In the broadest sense, your SOI comprises nearly everyone who knows, likes, and trusts you. These are people with whom you have some level of rapport, such as:
Friends and family members
Neighbors and friends of neighbors
Neighborhood and community groups
Volunteer activities
Former high school or college classmates
Religious fellowships
Parent-teacher groups
Gyms and community sports teams
Book clubs
Country clubs
Hairdresser/barber/massage therapist
Car mechanic
Doctors, dentists
Restaurants, bars, coffee shops
Handy person, house painter
Gardner/landscaper
You can probably add many more real estate sphere of influence sources to this list.
Of course, your SOI also includes former clients you've worked with as a buyer or seller agent.
HAVE A DAILY ROUTINE
If you ask any top-performing real estate agent the keys to their success, you'll likely hear about their daily routine. A SUCCESSFUL REAL ESTATE AGENT DAILY SCHEDULE likely includes the following:
Rise early and use the quiet early-morning hours to meditate or reflect on the day ahead.
Spend time with a role-playing partner to work on their scripts with a special focus on handling objections.
Begin phone prospecting around 8 AM and continue until
These are the basic strategies for HOW TO BECOME A SUCCESSFUL REAL ESTATE AGENT.
If you'd like to learn how Vulcan7 can help you achieve your goal, CONTACT US and someone will contact you as soon as possible.
Good luck.
If you're lucky enough to be a Vulcan 7 client,…
Read More