Client Expectations: Managing For Success
As with balancing any other type of personal relationship, real estate agents know that managing client expectations is critical to long-term success.
Sellers may expect you to turn their property overnight at an unreasonably high sales price; buyers may think you can find them a home on Day One that has every single quality they want at a rock bottom price.
Unrealistic? Maybe. But if getting positive referrals are an important element of your business model, you'll have to learn how to manage client expectations on the front end of the relationship.
Managing Real Estate Client Expectations
Educate clients about the market. The first thing you do is give your new clients a primer on the market. Make sure they have a basic understanding of current interest rates, prices and the status of inventory before you begin showing properties. They don't need enough knowledge to get a real estate license but the best way to insulate yourself against misunderstandings is by providing a market overview.
Honesty is the best policy. As tempting as it may be, don't tell your clients what you think they want to hear: Tell them what they need to hear. You'll build a stronger relationship and earn trust early by telling them tough truths.
Stay in touch. The root of being successful is to establish upfront how often a client wants to communicate. Do they want to talk daily? Do they only want to hear from you when you have an offer in hand? Know their preferences. You are also in your rights to establish boundaries for communication early. Your clients should expect to hear from you frequently during the sales process, but you can limit your contact. This might mean you set your phone to 'do not disturb' between the hours of 9 p.m. and 8 a.m., for instance, should you have the occasional high maintenance clients.
Be an empathetic listener. Too often, many of us get so caught up in the transactional nature of our business we can forget how emotional buying and selling a home is to our clients. As professionals, we are skilled at managing the ups and downs of real estate but most buyers and sellers have little experience. Exercise great patience and listen more than you talk.
Review roadblocks. Obstacles always crop up and there's rarely a transaction that doesn't have some item go awry, whether small or big. Walk clients through every negative outcome that could realistically occur during the sales process, for there's nothing worse than having someone tell you that you'd not amply prepared them. And, most of what goes wrong does so after a property is under contract, something clients need to know.
Start with each new client by following these tips and hit refresh periodically: To ensure you are meeting client expectations, check-in regularly so they have the opportunity to bring issues to your attention. Regular consideration is the surest path to creating solid business relationships.
This post on customer loyalty compliments the ideas outlined in the above post.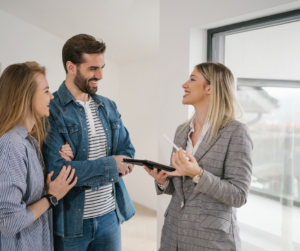 INTRODUCTION This blog post was created for one of the…
Read More